If you've got only one piece of anti-malware software on your system, you're not protected well enough. Most anti-spyware programs can't detect and kill all spyware, so it's a good idea to run two on occasion, and sometimes more. Malwarebytes' Anti-Malware (free demo, $25 to unlock all features) is a worthwhile addition to anyone's anti-spyware arsenal, because unlike some overly complex programs, it's easy to configure and use.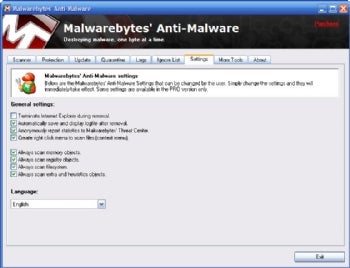 Using Malwarebytes' Anti-Malware is simplicity itself. After you run it, click Scan, and it checks your system for infections, and you can either do a quick scan, or a more comprehensive scan. For an initial scan, a comprehensive scan is a good idea.
After the program reports what it finds, it will clean the infections for you, and can also place them in quarantine before killing them, a feature common to most pieces of anti-spyware. There's also an Ignore List, so that if Anti-Malware incorrectly identifies software as malware, you can put it on the list, and the next time around, it won't be identified as malware.
Note that you can Malwarebytes' Anti-Malware program for free to scan and disinfect your system. But if you want to enable real-time protection to stop your PC from being infected in the first place, and to schedule scans, you'll have to register it.