Nothing sets the Web ablaze like iPhone hacking. You can guarantee that the split-second the latest iPhone 3.0 firmware hits, there's going to be a flurry of Internet chatter centered on three key topics:
I updated my iPhone on the first day I possibly could and it destroyed my applications and now I can't dial out with T-Mobile help
How do I jailbreak my iPhone I have a Windows computer where's the Windows client?
What's a jailbreak?
Here's the deal: nobody knows exactly what Apple is modifying with its 3.0 firmware just yet. And I'm not talking about the fancy little new applications, rumored tethering, or pretty wiggling graphics that Apple can pack into these updates. Apple's no stranger to modifying the iPhone's firmware when these larger updates come along. But it's not the end of world for wannabe-iPhone hackers. Not yet, at least.
There are two kinds of iPhone cracking you need concern yourself with: jailbreaking and unlocking. The former involves opening up your iPhone's Unix operating system, giving you complete access to its contents as well as the ability to install third-party applications. Unlocking bypasses the phone's SIM lock, allowing you to use your device with non-AT&T carriers.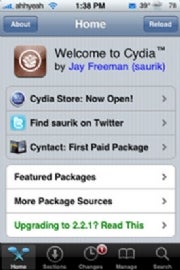 Depending on how Apple orchestrates its 3.0 firmware update, the Dev-Team behind the jailbreaking and unlocking mechanisms might have some work to do before an official suite of utilities is released to the general community. Expect to see a jailbreaking application on the OSX platform first. At least, that was the case with the iPhone 2.0 update. An unlock application followed suit, and both applications were eventually ported over to the Windows platform.
So what should you do? If you've never hacked additional functionality into your iPhone before, you might as well update to 3.0 firmware. You're going to be waiting a little while for the applications to come out anyway. If the tools are anything like the iPhone 2.0 techniques, you'll need to upgrade to the new firmware prior to performing any jailbreaking or unlocking. Might as well enjoy the new firmware as long as you can, eh?
The situation gets a little different if you've jailbroken or unlocked your 2.0+ firmware iPhone. In this situation, you don't want to jump the gun and hop onto the new firmware just yet. For starters, it'll overwrite any jailbreaking or unlocking you've done to your iPhone previously. Depending on the unlock tools that eventually come out for the device, you might also invalidate future jailbreaking/unlocking techniques through a possible update of your iPhone's baseband.
There's no word–nor will there probably be a word–about whether Apple is going to try and hard-encode future preventative measure into the iPhone as a result of the release of competing third-party application stores. There's no reason to think that Apple's pleased with the results of this nuisance-turned-competitor. At the very least, Apple will have a bit of time to breathe following the launch of the iPhone's 3.0 firmware. Third-party coders will need to port their applications over to work with the new firmware. And by the time that happens, who knows–maybe Apple will be ready with 3.0.1.