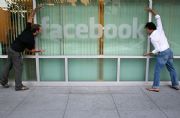 Facebook appears closer than ever to social network domination, if some freshly compiled stats are to be believed. The site has more than doubled its traffic from one year ago, analysis firm Hitwise has found, jumping nearly 150 percent from February of '08 to February 2009.
Astronomical Growth
There's no question Facebook's growth has been astronomical: Since opening its doors to the public back in September of 2006 (the site has been limited only to college students up to that point), Facebook has seen what can only be described as an explosion in use. Founder and CEO Mark Zuckerberg said just a few weeks ago that a million new users are signing up every week in the U.S. alone. Worldwide, the number is projected at 5 million newbies every seven days.
Now, though, it's becoming even more apparent how drastic of a change that's bringing to the overall market. In February of 2009, Facebook received 36.03 percent of all U.S. social network traffic — an increase of 149 percent from its 14.46 percent total one year earlier. Compare that to MySpace, which dropped 28 percent in the same timespan, falling from 72.92 percent in February of '08 to 52.21 percent in 2009.

Sure, MySpace is still in the lead — but seeing the two rates of change side-by-side can't be comforting for the folks on Tom Anderson's team. It's akin to the situation in the Web browser world, where IE's crown has slowly but steadily been slipping away. Here, though, the shift is even more extreme. Some tech bloggers have already placed their bets on 2010 for a formal change of guards.
Twitter Integration
Add this into the Facebook win column, too: Just today, Twitter desktop utility TweetDeck announced a new beta version of its software that integrates Facebook functionality as well. TweetDeck 0.24.1 lets you send and receive both tweets and Facebook updates all within a single interface. The software gives you the option of adding a separate section to monitor your Facebook stream right next to your Twitter stuff.
What's perhaps most interesting about the update, though, is that it lets you seamlessly cross-post from one service to the other. Say, for example, you want to share a friend's Facebook status on your Twitter stream. Click a button and you can "retweet" it as if it were a Twitter message. With Twitter's own rapidly expanding adoption, this placement will no doubt be a big boon for the big "F" — and TweetDeck says even more Facebook-Twitter integration is on the way.
Some may be predicting an inevitable social network backlash in the future, but I suspect any potential doomsday is the furthest thing from the minds of Facebook's elite right now. With the company's mobile growth and Web-wide Facebook Connect system also at play — not to mention the newly debuted redesign and negative–turned–positive privacy debacle last month — these days, the view from Mark Zuckerberg's chair has gotta be looking pretty sweet.
Connect with JR Raphael on Twitter (@jr_raphael) or via his Web site, jrstart.com