Dell launched its sleek and fashionable Adamo laptop line Tuesday with a prices starting at $2000. Going head to head with Apple's MacBook Air and HP's Voodoo Envy, Dell's Adamo line aims spruce up Dell's boxy image by bringing laptop design sensibility to fashion conscious users willing to compromise processing power over a thin beautiful exterior.
Beginning as one of the most buzzed laptops of the year, Dell's Adamo will be available from March 26 with pre-ordering of the Dell today. Dell claims its Adamo line of laptops is the thinnest in the world, with a uniform thickness of 0.65 inch (the MacBook Air is 0.76-inch at its thickest point and HP's Voodoo Envy measures 0.7-inch).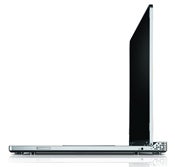 The Adamo laptops are built from aluminum (with a unibody design, a-la MacBook Air) and will come in two colors — onyx and pearl (or black and white for you and me). The laptop features a 13.4-inch LED backlit glossy widescreen (16:9) display with a 1,366 x 768 resolution housed behind a sheet of edge-to edge glass (previously seen in Apple's new MacBook line). Adamo laptops will come with Windows Vista Home Premium (SP1, 64-bit) pre-installed.
On the inside, Adamo sports at Intel Core 2 Duo 1.2GHz processor (MacBook Air has a 1.86GHz chip), a 128GB SSD (solid state disk) and comes with 2GB of RAM — all weighing four pounds (a pound more than Apple's counterpart). Just like Apple's skinny model, Adamo doesn't come with a built-in optical drive but a separate external (fashionably color matched DVD+/-R or Blu-ray) drive will be available and also 250/500 GB external HDDs.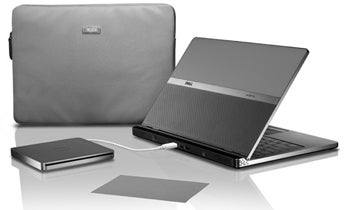 As for connectivity, Adamo features two USB ports, one USB/eSATA port (used for connecting the external optical drive/HDD), an Ethernet jack and a DisplayPort video output. An interesting addition is a SIM card slot on the right side of the laptop, next to the headphone jack (which can be used for connecting to the Internet over high-speed wireless networks). WiFi (including Draft N) and Bluetooth 2.1 are on board as well.
Dell also has a couple of promotional videos, going on about beauty, craftsmanship and falling in love with a machine.