Apple's iPhone 3.0 software overview positions the consumer device even further into the business world. Part of the push comes from the 1,000 new APIs (application programming interfaces) developers will be able to access; these tools will expand the basic functionality and make new kinds of software possible. The other part comes directly from Apple, in new features tied into its apps and OS. And while much was explained, a literal backdrop of feature names–including important business components–gives fuel for further speculation.
1,000 APIs and developer tools Apple is opening up 1,000 new APIs to developers, letting them access core parts of the hardware and software that were previously off-limits. A map API adds that functionality to any app; view all of your nearby clients in a CRM tool, for example. And a voice-chat API could let developers easily add push-to-talk-like functionality to any tool, letting you keep in touch without dialing the phone. But I'm most excited about opening the dock and Bluetooth connections to third parties.
Apple demonstrated how a glucose monitor could interface with the iPhone, and that's just the beginning. How about a barcode reader for point-of-sales use or cataloging inventory? A postage scale could list different service costs based on a contact's location. Just about any gadget could communicate with iPhone software.
Bluetooth peer-to-peer functions will also let software interact between two iPhones, such as when sharing a business card file. (The finally implemented MMS function will also be able to import contact info.)
Push notifications will finally arrive, too. Company software could send updates directly to a phone, keeping it more connected.
All of this–and hopefully many more of the new tools–will let developers make better software. And new App Store pricing structures could make them more interested in the process. With developers able to charge subscriptions or for a-la-carte content, even more should be attracted to the 25,000-app warehouse.
Apple's device features Sure, Apple tossed in a bunch of moderate updates that mostly just match competitors. Improved searches, cut/copy/paste, Bluetooth improvements, MMS, and a voice memo app will be arriving with the update. Apple supports tethering, but is working with carriers for possible rollout; no specifics were announced.
Beyond that, Apple explained that Exchange Server, CalDAV, and .ics subscriptions are being added to the calendar tool. But if you go through the frame-by-frame analysis–or at least minute-by-minute–of the event, many key business features are also revealed in slides.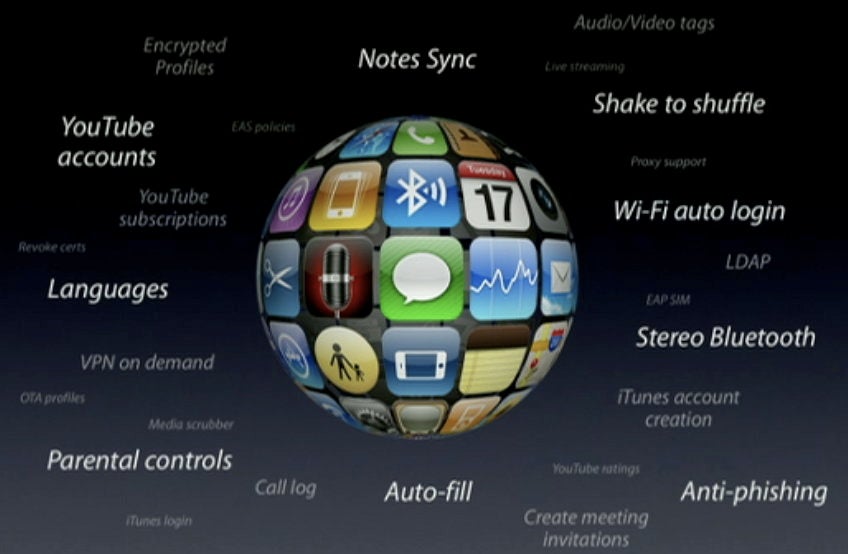 "LDAP" was touted; could this–coupled with other updates–signify a live, cloud-based contacts feature for businesses? "EAS policies" appeared. The iPhone currently supports some Exchange ActiveSync policies, but hopefully this signifies a more robust set. "Create meeting invitations" could signify even better group calendaring.
"OTA profiles" could give administrators more ways to configure and update phone settings over the air, while "Encrypted profiles" could finally secure critical information instead of just password protecting the phone.
"VPN on demand" should signify a smart tool that lets software activate the VPN connection automatically, when needed. "Proxy support" could allow another specialty networking tool.
All together, the iPhone 3.0 will be an even more robust business device. Sure, we'll have to wait until Apple explains these brief, bullet-point details. But between the next wave of great apps built with new APIs and Apple's own feature updates, the iPhone is starting to think like a BlackBerry.
Zack Stern is a freelance writer and editor based in San Francisco.