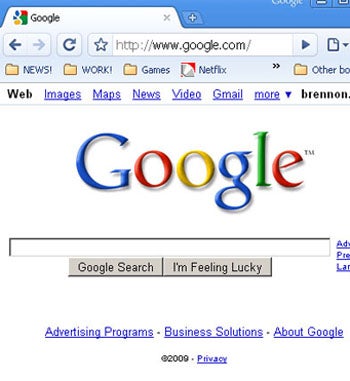 Google has upped the ante in the browser speed wars and added a handful of features with a new 2.0 beta version of its Chrome Web browser (you can download the browser here). Though Chrome version 1.0 emerged from beta in December, Google decided to move it back into beta testing and tinker. For those who aren't interested in playing with a beta edition, Google still offers the stable version for everyday Chrome users, as well as a developer version.
According to the official Google Chrome blog, the new beta version processes Javascript 25 percent faster on its V8 (the engine on which Chrome is built) benchmark, 35 percent faster on the Sunspider benchmark, and twice as fast as its original beta. Chrome beta also includes features such as form autofill; a full-page zoom that captures not only text but images; autoscroll when you click your mouse's scroll button; and dragging tabs — a neat feature that puts your tabs in side-by-side symmetrically-sized windows when you drag a tab outside of the original browser window.
I played with the Chrome beta and found that its speed boost and add-ons made the browser function like a quicker, cleaner version of Firefox. Downloaders should beware, though: Some reports caution that Chrome 2.0 beta is buggy and users have experienced problems with password management.
Last month Apple introduced a souped-up version of its Safari browser, claiming it was faster than its competitors Internet Explorer, Chrome, and Firefox. If Google's claim that this latest beta version of its browser is twice as fast as the original, I'd be interested to see where this leaves Apple and Google in the faster-is-better browser wars.