Fujitsu has announced plans to sell a Kindle-like mobile reader in Japan. The FLEPia, an e-paper terminal with an 8-inch color display, was first announced in April 2007, but limited samples were available only to corporate users. The latest FLEPia offers higher brightness and greater contrast, as well as faster re-draw speeds, the company says.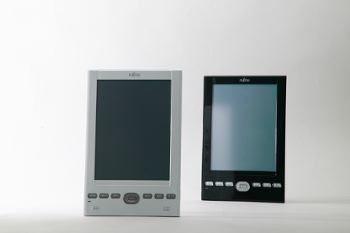 It's unclear whether Fujitsu plans to sell the FLEPia outside of Japan, where customers will be able to download books wirelessly to the device, or buy them via the FLEPia World website. Perhaps the company is unsure of the device's global prospects, although on paper it could prove a worthy competitor to the Amazon Kindle 2 and other mobile readers. Then again, FLEPia, which will be available April 20, is more than twice the price of the $359 Kindle. It sells for 99,750 Japanese yen, which comes out to about $1,036 (as of March 18).
In the battle of the specs, the FLEPia holds its own. It's 12.5mm thick — roughly a half-inch — and weighs 385 grams (13.58 ounces). By comparison, the Kindle is a bit slimmer (0.36 inches) and lighter (10.2 ounces). FLEPia's 8-inch screen can display color images and documents at 768 by 1,014 resolution with up to 260,000 colors. Kindle 2's 6-inch display shows 16 shades of gray at 600 by 800.
That color screen is bound to suck up a lot of juice. A fully charged FLEPia will operate for as long as 40 hours on battery power, Fujitsu says. By comparison, the Kindle can run as long as four days with its wireless radio turned on. Unlike Kindle, FLEPia is equipped with Bluetooth and Wi-Fi, and works via various Japanese mobile carriers. Kindle works exclusively via the Sprint network.
Specs aside, a well-designed content distribution system is crucial to the success of wireless book readers and media players like the Kindle and Apple iPhone 3G. One option would be for Fujitsu to partner with Amazon, Sony, or another vendor that's already built an online e-book store. In the long run, that might prove smarter and more cost-effective than being a new player in an increasingly crowded e-book market.