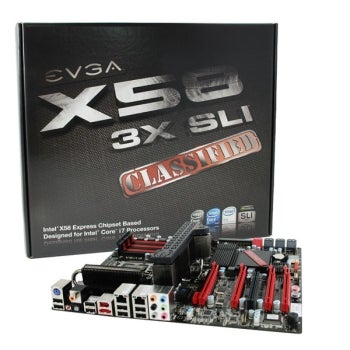 EVGA recently announced the "Ultimate in X58 motherboards." One of the most anticipated products of 2009, the X58 Classified aims to set the standard for enthusiast motherboards by introducing several new features. It is the first board capable of housing 3-way SLI graphics cards, a dedicated PhysX card, and a PCIe 1x sound card at the same time. Also, there are two 8-pin +12V CPU connectors available to provide up to 600 watts of power. When trying to break world records, you'll need the voltage stability the Classified can provide.
"Many manufacturers are stuffing the CPU core power circuitry with endless phases without looking at the big picture. We take a very first to very last approach instead," says Peter "Shamino" Tan, a renowned overclocker who helped design the board. "First the +12V comes into the board through the 8-pin CPU power connector. We remove the bottleneck here by doubling the current input capability with dual +12V. Next, the +12V is processed through a beefy 10 phase Digital PWM with a switching frequency of up to 1,333KHz, twice the speed of typical digital PWMs and three times the speed of typical analog!"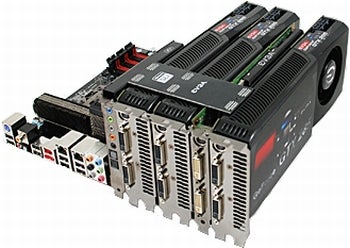 Don't expect world domination to come cheap. At $450, this is the most expensive X58 board yet as it packs tons of features and unrivaled overclocking capability. Nevertheless, expect demand to be sky high for the first few months and finding the Classified in stock will likely prove difficult.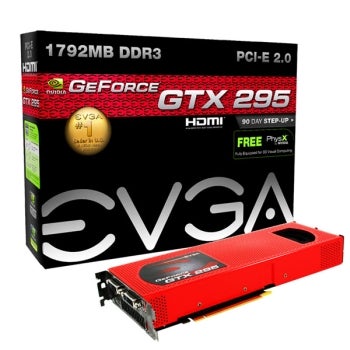 Just in case you had anything left over from your economic stimulus stash, check out EVGA's GTX 295 Red Edition graphics card. Besides being the fastest card on the planet, it now comes pimped with a racy red paint job to emphasize its elite status. This baby sports a 576MHz core clock with 1792MB DDR3 memory, dual DVI connectors, an HDMI port, and PCIe 2.0 16x interface. For $565, you get a monster video card that provides gaming heaven, instant status, and serious bragging rights.