Months before the iPhone OS 3.0 is released to the masses, one entrepreneurial developer has managed to crack into the phone's Internet tethering capabilities. Steve Troughton-Smith unearthed the iPhone's tethering preferences pane, connected his iPhone to his Mac via USB, and was allowed to use the phone as a modem. Problem is, he has no idea how he did it. From Twitter, he says, "To all: I have no idea how I did it. Sorry! I was hacking around with APNs in the Carrier.bundle itcc file."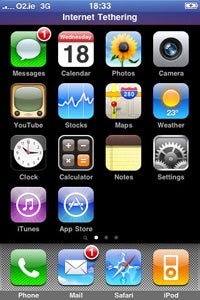 Internet tethering was rumored to be a feature on OS 3.0, and during the iPhone OS 3.0 conference, Senior VP for iPhone Software Scott Forstall said the OS 3.0 supported Internet tethering. Despite the iPhone's capability, tethering was never made into an option.
The question now is whether carriers want to shoulder the burden tethering would create on its networks — and the burden is huge. Earlier this week iPhones practically crippled AT&T's 3G network at Austin's SXSW festival, and that was just the phone. Imagine hundreds of thousands of computers connected to that same network and the damage it'd wreak.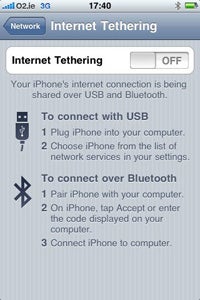 If you have a jailbroken iPhone, Internet tethering is readily available. When OS 3.0 rolls around, Apple will kick all jailbreakers out of the party — temporarily. The Dev-Team announced that 3.0 is definitely "jailbreakable" but that those using Yellowsn0w — a software-based jailbreaking system — should exercise restraint and wait for the "official" set of keys.