ArtRage Deluxe is an uncanny simulation of real-life oil painting. It mimics the behavior of real canvas, brushes, and oil-based paint itself to create an uncanny digital painting experience. People who routinely oil paint in real life and want to transition to digital are going to get the most use out of ArtRage Deluxe ($50, 30-day free trial).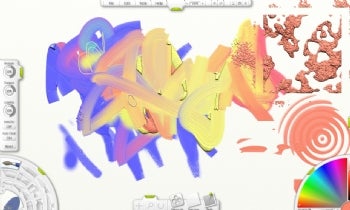 The paint in ArtRage Deluxe looks and feels like real paint as you drop it on to the canvas and move it around with a tool. For example, use the Paint Tube tool to put a glob of paint directly on the canvas. Then, use the paintbrush to paint with it, or the palette knife to smear it around. The more paint the tool puts on the canvas, the more the knife will be able to smear it.
Colors mix as in real life. If your paintbrush is dirty, whatever's on the brush will get applied to the page until you click on the water bucket. Similarly, painting across existing paint will mix the two colors. Luckily, ArtRage Deluxe has layers, which work similar to Photoshop layers in that they act independently of each other but can be visible on the same screen.
It's not all oil paints, either. Chalk, crayon and pencil are also options, and canvas texture can be adjusted to fully take advantage of these mediums.
Existing images can be imported into ArtRage Deluxe in one of three ways. You can pin a small version of the image to use as photo reference. You can load it as a tracing image and then place a tracing layer on top of it to practice tracing from real life. Finally, you can just import the image and then mess with it using existing tools.
ArtRage Deluxe is quite inexpensive ($50) compared to the hundreds that programs like PhotoShop charge. If yout want a reality-based painting experience to help you get your paint on, this is the way to go.
Note: The trial version of ArtRage Deluxe is full-featured and lasts for 30 days. As of this writing, clicking through to the trial also reveals a 20% discount on a digital download of the full version, bringing it down to $40. However, downloading the trial requires a credit-card subscription to the full version at full cost. This subscription must be cancelled before the 30 days is up to avoid a $50 charge and an automatic unlock.