Dance is a celebration of life and living. Watching Wozniak dance recently on Dancing With the Stars, I saw exuberance, style, flair, grace and remarkable strength and flexiblity. I saw joie de vivre. Wozniak, one of our own, dances with abandon. It brought a tear to my eye.
I'm a college professor and I learned more in this video clip than I learned in an entire semester of some of the classes I took in college. Here is what I learned: You'll never be remembered in this life if you sit on the sidelines and watch others dance. You need to get out on the dance floor yourself. Literally get out there.
And if you're not a dancer, that doesn't matter one whit. Dance is a physical expression of a mental state of mind. If you're experiencing joy and you express that joy in any way in physical form, you're dancing.
Wozniak is teaching us about play in this video clip. Play is also a state of mind. Play happens when you decide to act playfully. Look at that expression on Woz's face. His eyes are filled with the play you see in a puppy's eyes. And there's a hint of mischief in there. That wonderful Wozniak mischief, on display for all the world to see again.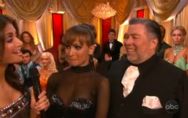 You see, play is a close cousin of creativity, and Wozniak — he has creativity galore. He is a swirling bundle of creativity. Out there on the dancer floor. Dancing with abandon. He's teaching us something. Let me tell you. He's teaching us something.
If you lean over, I'll whisper to you what he's teaching us. Lean over a little further. Dance can happen without a single movement. Dance is different from dancing.
Can you dance? Do you know how to dance? And is it visible to others — in whatever form your dancing takes?
Phil Shapiro
(The blogger is an Adjunct Professor of Education and a technology commentator in the Washington DC-area. He can be reached at philshapiroblogger@gmail.com)