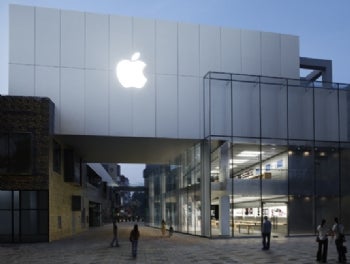 Steve Ballmer is trash-talking Apple again. No surprise there, as Microsoft's famously loud-mouthed CEO has taken plenty of swings at Cupertino over the years, such as when he snickered at the iPhone back in 2007. Ballmer's most recent shot came Thursday at the McGraw-Hill Companies' Media Summit New York, where Ballmer was interviewed via webcast by BusinessWeek editor-in-chief Stephen Adler.
As reported by Todd Bishop of TechFlash, Ballmer offered his theory as to why Macintosh sales fell 16 percent in February, according to stats from market-researcher NPD Group:
"The economy is helpful. Paying an extra $500 for a computer in this environment — same piece of hardware — paying $500 more to get a logo on it? I think that's a more challenging proposition for the average person than it used to be."
The Mac vs. PC argument is an old one, certainly, and Ballmer's hardly an impartial observer in the debate. But does Steve have a point? Take the MacBook, for instance. The white 13-inch model with a 2.0 GHz Intel Core 2 Duo chip, 2GB of memory and a 120GB hard drive is still $999. Compared to similarly-equipped Windows notebooks, that's awfully pricey.
The Apple faithful will counter that the Mac offers much more for the money. But does it?
While it's difficult to draw an apples-to-apples (insert Apple-to-PC joke here) comparison, I decided to give it a shot by configuring a 13-inch notebook at the Dell site. For $640, I could buy an Inspiron laptop with a 13-inch glossy, widescreen display (the premium screen), a 2.0 GHz Core 2 Duo processor, 3GB of memory, and a 250GB hard drive.
The Dell Insprion cost $359 less than the MacBook, but offered a lot more memory and storage. Ballmer's estimate of a $500 Mac premium may be a tad high, but it's in the ballpark. Let's say the Mac tax is more like $300 than $500.
Apple enthusiasts will counter that Mac users don't have to fuss with security worries, and that's true, at least for now. They'll point out that Macs don't come with the crapware that infests so many Windows PCs. And they'll make the valid observation that the MacBook's preinstalled software, including iLife, is superior to the so-so apps, including Microsoft Works, that ship with most consumer Windows PCs.
Fair enough. But are those advantages worth a $300-plus premium? In this economy, many consumers may think not.
Ballmer's logo-tax theory doesn't hold true for all Apple products, however. The $199 iPhone 3G doesn't cost more than competing smart phones, even when you add in the monthly AT&T service cost. And iPods come in a wide range of competitively-priced packages, from the $79 Shuffle to the feature-packed $229 iPod Touch.