A couple years back, Bigfoot Networks stepped into the market with an idea: Build a network card for gamers. This NIC promised to optimize packets and prioritizes games. Heck, the original had a separate USB port so that you could download torrents to a USB thumb drive while playing Battlefield 2. But it sold for $280 at launch–a really hard sell. The $149 K1 is an underclocked version with more features like a hardware firewall that replaces the firewall in the router / system and a bandwidth control tool detects apps that run in the system and throttle stuff manually.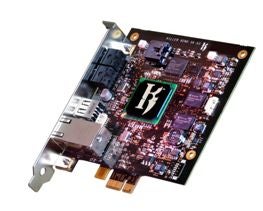 Now, at the 2009 Game Developer's Conference, Bigfoot Networks has two announcements. The first: they are releasing the $130 Killer Xeno Pro card. The big deal this time around is that they've been able to get prices down, beef up the memory and pack on an additional chip that can offload the voice chat. A 400GHz NPU (as in Network Processing Unit — oh, joy, another acronym!) bypasses the Windows network stack while an integrated audio chip offloads VoIP. We're talking audio input/output jacks as well — the whole nine yards. Yep, voice applications (which can easily chew up CPU bandwidth) can be handled on the Xeno card. A couple of the big, dedicated software packages — Vivox, TeamSpeak, and Mumble (a Linux voice app) — will be supported at first.
That sounds neat, but a fairly major omission is support for GameSpy, which comes configured within many of the new games out there. And what about all those games like, say, Battlefield 2 that have their own internal VoIP code? "A fair question," admits Bigfoot CTO Harlan Beverly, "but we do plan to release firmware updates fairly regularly — like we've done with our previous cards."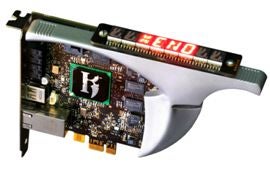 Difference is that this time, Bigfoot won't be producing the cards. The second bit of news: Bigfoot is partnering with EVGA to produce, distribute and sell the upcoming hardware. You'll see the $130 Killer Xeno Pro with 128MB of RAM selling in April. While a slightly "sexier" version, the Killer Xeno Ultra comes with 256MB of RAM (useful) and an 8-panel, 14-segment LED display (not-so-useful) ships in May for $180. How well does it all work? Well, it sounds good on paper. We hope to get some hardware in-house and see for ourselves if it delivers all the goods as promised and really make for a better online gaming experience.