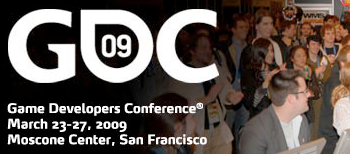 Lo and behold, the U.S. Game Developers Conference is once more upon us. Already we're being prepped for the numerological probabilities. An AP story published by Forbes holds a few gloomy, wriggling stats up by their feet, like GDC event director Meggan Scavio saying she expects attendance to be down (the article says "slightly") from last year's 18,000 game-goers.
She fingers "travel and training" as the first casualties of the budget wars as companies hunker down for a lengthy recession. That hunkering's not always the case (or always uniform, anyway). I know a business exec whose company just flew him first class from the States to Europe. What's that sort of ticket to ride cost these days? If you guessed shy of $10,000, you wouldn't be cold. By hook or by crook, the corporate cream always seems to dodge the lifestyle crunch associated with general business rollbacks.
Not so the killer conference parties. Woe unto all you GDC buffs with your DRADIS radar dialed to "maximum rave" this year. According to Scavio, you can expect "fewer, more informal parties." GDC's like any games conference, of course — another chance for the half-serious to party long, while the slightly more serious dance the "access" tarantella and try to rub elbows with their favorite geek-heroes while dodging inordinate PR sunshine salvos.
Case in point, Hideo Kojima (i.e. Metal-Gear-Solid-san) is keynoting this year's GDC. He'll be sharing the spotlight with Nintendo president Satoru Iwata. Don't expect much from either. Keynotes never deep-dive. If you're into rousing state of the union speeches (and from Nintendo, no doubt, some understandable self-indulgent back-clapping) stay tuned and I'll pass along the most salient points.
The most vital part of GDC is the Independent Games Festival, where games far less successful but exponentially more interesting get their fleeting moment in the sun. Betwixt miles of bland press releases and semi-intriguing games announcements (and mayhap Sony's long rumored PS3 price cut, aka "Sony gets a clue") I'll be shining my light on those IGF awards and then more.
For PC World's GDC 2009 coverage, park your RSS feeds here, or hook your micro-blog readers around twitter.com/game_on.