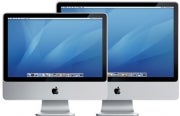 Remember when Apple discontinued the 17-inch iMac in 2007? Well, it looks like that iMac hasn't gone away at all and is still available to schools for only $899. Italian blog, SetteB.it, discovered the new offering in the March edition of Apple's "eNews of Education" newsletter. "The new iMac line also includes a 17-inch model starting at $899," Apple states in the newsletter. It seems that Apple is providing the model as an enticement for schools in the K-12 range to invest funds they may receive through the Obama Administration's "American Recovery and Reinvestment Act". President Obama has stated repeatedly that he wants to spread access to technology across the country.

Apple's newsletter also links to an Apple white paper that declares that the education funding in the American Recovery and Reinvestment Act (ARRA) of 2009 "represents a tremendous boost in education spending . . . at a time when the country needs it most." It won't be bad for Apple, either; the company concludes its white paper by stating, "Apple is ready to partner with you as you move forward with plans to invest in education and technology. Apple can assist you in matching your educational goals with the technology that will help you be successful."
This is certainly a great deal for schools, especially as some look for the best way to invest any funds they may receive from the federal government. But if Apple really wanted to capitalize on the current economy, why not release this well-priced device for the entire public? Oddly enough, the 17-inch iMac was originally intended for schools and only became available to everyone in 2002 after public demand grew, according to Ars Technica. Then, in 2007, Apple officially discontinued the 17-inch iMac only to have it resurface today. Currently, Apple offers 20- and 24-inch models to the general public starting at $1199. But who knows? Maybe history will repeat itself if demand grows loud enough. So how about it folks, anybody out there want to buy a 17-inch iMac for less than $1000?