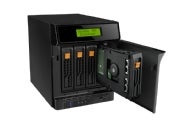 With the BlackArmor NAS 440, Seagate reactivates its BlackArmor brand and launches is first serious network-attached storage device.
Previously, the BlackArmor brand was tied to Maxtor; and it was synonymous with Seagate's external full-disk encryption drive. Now the Maxtor brand and full-disk encryption are gone–and BlackArmor will be targeting both small businesses and home-office/multipurpose users.
The new BlackArmor NAS 440–along with its lower-capacity sibling, the BlackArmor NAS 420–is a four-bay device. The NAS 420 comes with two drives installed; the NAS 440 comes packed with four drives and will ship with a storage capacity of up to 8TB, matching rival Western Digital's ShareSpace with 8TB.
These new NAS models include such features as user-accessible drives, backup, gigabit ethernet, software encryption, remote access, iTunes server, and four USB ports for attaching external USB drives or a USB printer. The units also support multiple RAID options (RAID 0, RAID 1, RAID 5, RAID 10, and JBOD). More intriguing, the NAS 440 and 420 are custom-configurable into subset "volumes" using Seagate's Linux-based embedded software; you can then assign these volumes to their own levels of redundancy via the aforementioned RAID options.
This advanced feature can be both liberating in its flexibility and constraining. It's valuable if, rather than treating all of the data stored on the drive equally, you would rather treat, say, 1TB of data to RAID 5, and another 500GB to RAID 0 or JBOD, with still another 500GB receiving software encryption. This approach lets you use a single drive to serve all of your data over the network, as opposed to using separate devices to accomplish the same task.
The catch: If you need to make changes in the capacity of your volumes, you must start from scratch. Afterward, your BlackArmor device will resemble a reformatted C: drive–you'll have a clean slate and no data (unless you backed it up elsewhere).
Seagate ships these NAS boxes configured by default in RAID 5, a solid choice for maximum data safety. I'll be interested to try out the volume and RAID pairings, to see how the drive behaves as compared with, say, a Data Robotics Drobo, which uses virtualization to distribute redundant content across four drives.
Pricing starts at $800 for a 2TB BlackArmor NAS 420. The NAS 440 will cost $1200 for the 4TB version, $1700 for the 6TB, and $2000 for the 8TB (due in May).
That last tidbit is perhaps the most notable thing about this product: It means that Seagate will have its own 2TB hard drive available in May to compete with Western Digital's already-shipping 2TB hard drive.