A day after a leading industry analyst reported that Dell cancelled its smartphone due to lack of interest from cellular carriers, a new report says the PC maker's handset may be very much alive.
Speaking Tuesday in Japan, CEO Michael Dell suggested his company is working on either a smartphone or a mobile Internet device, according to an IDG News Service report:
"We already have agreements with many mobile carriers around netbook devices, so it wouldn't be unreasonable to expect that we would have smaller mobile Internet devices or smartphones in the future."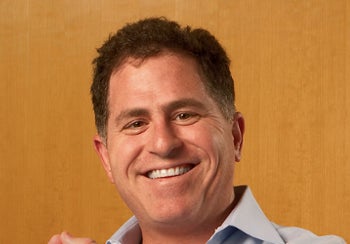 The statement seems to contradict an earlier report from Kaufman Bros. analyst Shaw Wu, who said Dell's planned smartphone was rejected by cell carriers, which deemed the device too dull to compete with stylish and popular handsets such as the Apple iPhone, RIM Blackberry, Samsung Omnia, and T-Mobile G1.
It's feasible that Dell's first attempt at building a smartphone was truly lame, but that the company has multiple efforts under way. Whatever the case, it's obvious that Dell wants into the wireless market in a big way. Recent rumors even have it making a play for smartphone maker Palm, which is readying its highly anticipated Pre handset for launch.
Another sign that Dell's smartphone isn't dead comes from the Commercial Times in Taiwan. The newspaper reports that Dell has placed an order with electronics contract manufacturer Hon Hai Precision Industry Co. to build smartphones. Michael Dell declined to comment on that report, according to IDG News.
Is Dell too boring to make a sexy, marketable smartphone? The kneejerk reaction is yes, given the company's history of drab, workmanlike design. But Dell appears to be livening things up, as indicated by the recent rollout of its ultra-sleek Adamo notebook.
Let's hope the Dell Dude doesn't make a comeback to market the company's smartphone — unless, of course, the handset has a built-in lighter.