Click to Convert ($89, 15-day free trial) is an easy-to-use program that can turn most document formats into PDF or HTML files. The very simple interface conceals a rich set of options and settings "under the hood".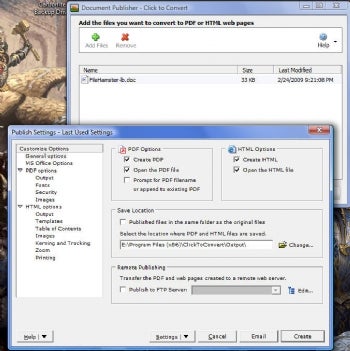 In short, you select the file or files you wish to convert–you can drag-and-drop or just use a standard file selection dialog–and push a button. Click to Convert presents you with a variety of options, such as using Word styles to determine bookmarks in PDF, if you want an HTML table of contents (and which HTML template, if any, to use). You can add a watermark to all pages (Such as "Approved" or "Burn After Reading"). Then you click again, and Click to Convert churns through its paces, producing an appropriately formatted file.
Click to Convert integrates itself into Office 2007, providing its own tab on the tool ribbon. This makes it exceptionally convenient to use.
The PDF files produced by Click to Convert from Word .DOC files are quite nice, creating thumbnails and bookmarks. However, the PDF documents produced by the trial version contain watermarks. Also, Click to Convert does not currently work on 64-bit versions of Windows Vista, though it works properly on the 32-bit version.
At $89.00, Click to Convert is towards the high end of small, single-function programs. However, if you are regularly producing PDF or HTML versions of documents, the convenience and flexibility of Click to Convert may be worth it, and the trial period is certainly long enough to evaluate if the program is for you.