I've got to hand it to Dmitry Brant, the man writes a mean utility. DiskDigger (free) is more than the usual undelete utility offered gratis as a leader product. It goes "beneath the file system" (Dmitry's line, which I plan to borrow regularly in the future) to recover data on a sector-by-sector basis from hard drives, thumb drives, etc. Think of these sectors as little boxes containing data that are arranged in tracks/circles on your hard drive.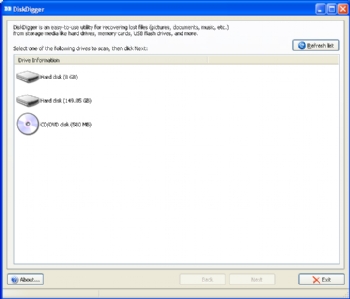 DiskDigger couldn't be easier to use. Select a drive, select the types of files to be recovered (jpeg, mp3, documents, etc.) then click next. I actually had a brand new partition-trashed hard drive on hand to test DiskDigger with. To be honest, I wasn't expecting a free program to recognize the hard drive, let alone recover data from it. My bad. Like I said, the man writes a mean utility. I tested DiskDigger inside a VMWare virtual machine and while it didn't recognize the virtual hard drives, it did find the trashed drive. What's more, it found files. And recovered them.
My only complaint is that if the type of file you're looking to recover isn't in the DiskDigger's list, it won't find it. There should be a "*.*" option or the ability to define file types. Still, the most common file types are there and that should cover the majority of users.
So here's the rundown: DiskDigger is a free, easy-to-use recovery program that works nearly as well as pay utilities such as Active@ File Recovery Standard and EasyRecovery Professional. Your mouse should run, not walk, to the download link.