If you look around, there are literally dozens of DVD copy programs or rippers advertised. Most won't back up copy protected DVDs–Pavtube DVD Ripper ($35, free demo) does. Before I go any further, let me say that while making a single copy of a DVD for backup purposes is legal, the DMCA says the breaking the copy protection on DVDs or any copy protection is. That leaves a whole lot of room for legal contention; so, don't say I didn't tell you.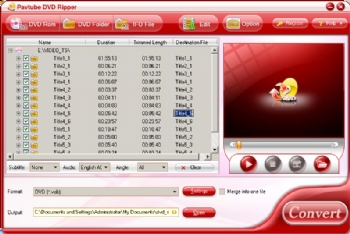 Legal caveat aside, Pavtube DVD Ripper works well. I ripped my own copy-protected DVD of "The Bourne Ultimatum" to both mp4 (for iPods) and straight VOBs (for re-burning to DVD) but the program supports a myriad of output formats suited to any number of other portable devices. The demo version placed a prominent watermark logo on the video, but the quality was quite good.
Performance on the rip-to-VOB was pretty slow (most likely because of adding the watermark); encoding to MP4 was adequate, but not super fast. You can select which titles on the disc to include in a rip, as well as encode all the titles on the disc to one file or separate files.
The program's interface is very clean and well suited to task; I had no problem finding all the relevant options or understanding them. Bottom line: Pavtube DVD Ripper performs as advertised and is well suited to backing up your DVD collection or rendering it viewable on your iPod or other portable viewer.