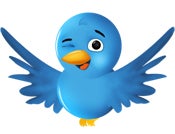 Microblogging service Twitter says it will soon offer premium paid accounts to businesses. At the same time Twitter is raising its profile to Twitter newcomers with a suggested users list to follow. The moves come as massive speculation as to what's next for the free microblogging site crescendos.
In a blog post, Twitter co-founder Biz Stone explains that when people sign up for a Twitter account and don't follow anyone they run the risk of seeing the service as "not as relevant as it could be." Relevancy counts in the world of Web start-ups and venture capitalists.
Pay-Per-Tweet
Details are scant on how Stone plans on turning relevancy into dollars. But according to a blog post at the Silicon Valley Insider and also a story by the Wall Street Journal Twitter will soon launch paid pro accounts for businesses.
Twitter has been the "it" company as of recent. According to the WSJ article, Twitter has an estimated value of $255 million dollars. The only clouds on the horizon for the service that lets you tweet 140-character messages to followers is the company currently lacks a business model.
While Twitter has been planning business models for itself, others have started to make money off Twitter's back. Federated Media Publishing has launched a commercial site called ExecTweets, sponsored by Microsoft, that allows you to follow business power players. Federated Media says it will share revenue it earns from sponsorships with Twitter.
Meanwhile, Twitter is boosting its profile with the public and those new to Twitter with a list of 100 suggested Twitter users to follow. That makes sense, considering Twitter users may be one of the few concrete measures of the company's value right now. According to Web monitoring firm ComScore the number of unique visitors to Twitter's online service reached 9.8 million in February — up from 6.1 million in January.
Follow Me For Free
For those scratching their heads wondering what all this Twitter stuff is about, Stone hopes to help the masses see the Twitter light. Twitter is now pushing its top 100 "interesting, famous or just fun" Twitter users to follow.
To learn more about how Twitter created the list of 100 Twitter users to follow, read my colleague Ian Paul's blog "How to Get on Twitter's List."