Savvy Google users know that it's possible to filter Google searches by document type. For example, if you append "filetype:PDF" to your search word or phrase, Google will serve up PDFs that match.
DocJax is an entire search engine built on that idea. Just type in your query and DocJax finds matching Word documents, Excel spreadsheets, Powerpoint presentations, and PDFs.
By default, the results page lumps together all four kinds of documents, but you can filter the results by clicking DOC, XLS, PPT, or PDF.
You can also click the Preview It link below any document to open a fully interactive preview window (courtesy of Web-document service Scribd). Naturally, there's a Download option as well.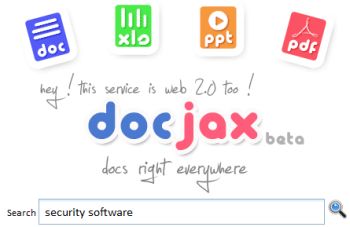 If you'd rather not have to go to the DocJax site every time you want to run a search, just click Add Search Extension to add DocJax to your browser's toolbar search engines. How convenient is that!
This definitely beats Google's 'filetype' search, which limits you to one document type at a time and doesn't give you a preview option (or a one-click download option). Highly recommended!