Between overly simplistic "Personal Home Page" tools and the deep, dark, depths of full content management suites like Joomla, lies ToWeb Free Edition. This useful program serves those who want more than pictures of their cat but don't have the time or inclination to learn CSS and muck about with configuration files and editing raw DHTML.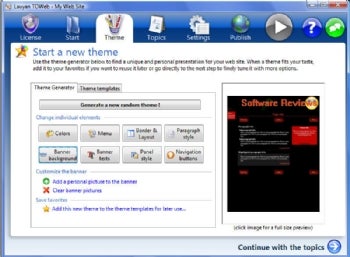 ToWeb uses a wizard-style interface to guide you through everything from selecting a topic for your Web page to actually uploading it to a host (you will need to provide a hosting service). However, simply clicking next-next-next will produce a subpar experience. Each page of ToWeb's wizard (and you can easily move forward and backwards without losing changes) is filled with ever deeper layers of options and choices, allowing a surprising degree of customization within a fairly standard web page layout. ToWeb also functions as an ongoing content management system, allowing you to easily add and integrate new content to your site.
All of the underlying work–the raw HTML and CSS which composes the site–is hidden from you; you work entirely within the GUI, clicking checkboxes, selecting items from drop down menus, and so on. You can easily preview your in-development site on your local system before committing it to upload, and that's a good thing–it is very easy to create truly hideous combinations of colors and graphical elements, often referred to by designers as "Angry Fruit Salad."
ToWeb's free version automatically posts advertising banners and links, and limits your Web site's size, as well as disallowing commercial use. There are a variety of licenses available which unlock additional functionality, but there are plenty of things to play with in the free version before deciding to upgrade.