One of the simplest ways to make sure your PC runs as efficiently as possible is to defragment your hard disk, and Smart Defrag is a great way to do it. As with the defragment utility built into Windows, this freebie analyzes your hard disk, shows you the results, and then lets you decide whether to defragment. But it also offers extras as well, such as several levels of defragmentation, including whether to merely defragment your hard disk, or also move files around for optimum placement.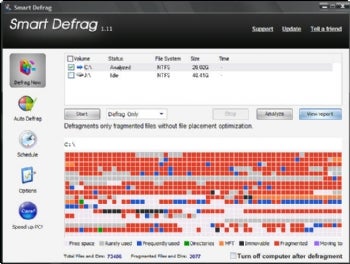 There's also a simple-to-use scheduler, so that you can schedule your defragments at regular intervals. You can also customize the defragmentation in many ways, such as not defragging when your PC is on battery power.
One particularly nice feature is Auto Defrag, which defragments your hard disk only when you computer is idle, so that you don't interrupt or slow down any work. You can also customize Auto Defrag by telling it to pause when your system exceeds a certain percentage of resource usage, for example.
Note that by default, this program installs the Yahoo Toolbar, so if you don't want it installed, uncheck the box when you install the program.