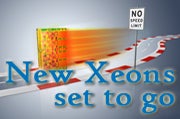 The world's top server vendors on Monday updated their product lines, launching new servers to coincide with the release of Intel's next-generation Xeon processors.
IBM, Hewlett-Packard and Dell said their new low-end and midrange servers will be their fastest to date, dwarfing earlier products that ran on Intel-based chips. The servers will include Intel's latest Xeon 5500 quad-core series chips, which boosts overall server performance while drawing much less power.
"This is the largest increase in performance in the history of Xeon product line," said Kirk Skaugen, vice president and general manager, server platforms group at Intel.
HP and Dell said the chips double server performance while consuming 50 percent less power than their predecessors. Nehalem's microarchitecture design improves data throughput by cutting bottlenecks that plagued older chips.
The new servers reflect a trend of cutting data-center costs while delivering performance gains via faster chips and virtualization, said Charles King, principal analyst at Pund-IT.
"These issues line up pretty well with enterprise customers' overriding concerns about the fragile economy and needing to quantify the economic value of the IT products they plan to buy," he said.
Chip improvements should allow servers to execute more tasks in virtualized environments, which should consolidate servers in smaller spaces in data centers. That could also help cut additional overhead costs per server, including energy and hardware acquisition costs.
Close to nine servers with Xeon processors can consolidate into one Nehalem-based quad-core Xeon server, Intel's Skaugen said. HP officials said that close to 24 single-core servers could be merged into one quad-core Xeon server.
Manufacturing company Emerson is looking to merge about 140 data centers into just a couple of centers by reducing the number of servers, said Stephen Hassell, vice president and chief information officer, during a Dell press conference last week. He said the company merged 18 old servers into one Nehalem-based Dell PowerEdge server, while reducing the server footprint by up to 50 percent.
The improved server performance comes partially from a faster pipe that allows chips to communicate faster with other processors, memory and system components. A crucial architectural change involves the integration of a memory controller on a CPU, which gives CPUs a faster communication channel with memory. The data-throughput improvements are bundled under a technology called QuickPath Interconnect, or QPI.
Dell already announced new PowerEdge 11g servers last week, but revealed specifications on Monday. The company's server lineup now includes five new blade, rack and tower PowerEdge servers based on Intel's Xeon 5500 series processors. The servers include the M610 and M710 blade servers, the R710 and R610 rack servers and the T610 tower server. The servers are priced starting at US$1,599 and are available worldwide starting Monday.
HP said Monday's roll-out of 10 new ProLiant G6 low-end and midrange servers was its biggest ever in the company's history. The lineup includes three blade servers, five rack servers and two tower servers. The systems will be available on Monday starting at $1,000. The systems include a number of enhancements that could see cut energy costs.
A power management technology offered by HP can cap power consumption by a set of servers. Another unique feature is the inclusion of 32 sensors in each server that can track and dynamically reduce server power consumption. Sensors measure thermal activity of components like fans, and algorithms use the data to adjust operation of the components to cool systems more efficiently.
IBM on Monday introduced four new Nehalem-based rack servers and blades feature unique designs that can slash energy costs up to 50 percent, according to the company. The offerings include the IBM BladeCenter HS22 blade server, System x3650 M2 and System x3550 M2 rack servers. IBM is also launching the System x iDataPlex dx360 M2, which is designed for data centers, and provides up to five times the compute density versus traditional 1U rack servers while cooling systems more efficiently, according to the company.
Software tools are also being offered with the servers to cut energy and system maintenance costs. Dell and IBM are offering software, called the Dell Management Console and Systems Director 6.1, respectively, making it easier for enterprises to manage hardware, software and networking resources across virtualized environments. HP is offering tools to manage power consumption by groups of servers, and tools to manage operations spread over virtual machines in a virtualized server environment.
HP and Dell are also plugging system management and diagnostic tools directly into the hardware. That will ease fixing and updating systems, and delivery of software like product updates on a timely basis, the vendors said. Servers usually ship with installation CDs, but the software will now go on a chip instead and save users from fumbling around to find the right installation discs.
Server makers will continue to see improved processor performance as Intel battles rival Advanced Micro Devices for server chip market share. AMD is due to ship its 6-core Istanbul chips later this year, while Intel will ship 8-core Nehalem-EX processors later this year or early 2010.