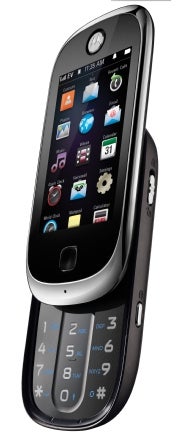 Motorola has announced its latest offering, the Evoke QA4 — a touch-screen cell phone that represents the company's second attempt at offering an iPhone-like handset. This time Motorola looks as if it got it right with the Web-savvy Evoke QA4, which comes equipped with a virtual QWERTY keyboard and what it calls "social" features such as a MySpace Mobile application, conversational style SMS and e-mail displays, and a full-HTML Web browser able to display standard Web pages. This is a successor to Motorola's clumsy Krave ZN4 "clear flip" touch-screen.
All programs on the Evoke are widget-based and the home screen is fully customizable. Preloaded widgets available at launch include MySpace Mobile, Follow Me Weather, Google Quicksearch, Google Picasa, RSS Reader, USA Today Mobile, and YouTube.
The 3G (CDMA) Evoke also has GPS, stereo Bluetooth, noise reduction, a 2-megapixel video and still camera, approximately 330 minutes of talk time, and up to 8GB of external storage capacity. The Evoke will be available before the summer, but Motorola has yet to announce pricing.
At first glance, it looks like Motorola built the Evoke based on a list of features missing from the iPhone (pre-OS 3.0 that is). However, if Motorola really wants to compete with other smart phones, designs for the Evoke need to go further. The slide-out phone pad, for example, would have been more effective as a slide-out QWERTY keyboard. Wi-Fi is also noticeably absent from the Evoke's features list, and why does the Evoke feature MySpace integration above Facebook, Orkut, or other social networks?
Despite these shortcomings, the Motorola Evoke seems like a nice offering. Based on the general timelines from both Motorola and Palm, it looks like the Evoke and the Palm Pre will hit store shelves around the same time. It will be interesting to see how those two devices stack up against each other, and what the price difference will be.
The Evoke's introduction raises some other interesting questions as well. Does this mean that Motorola will be opening an app store to support the Evoke and future devices? Based on information on Motorola's site, the Evoke seems to be Java-based, so what is going on with the rumored Motorola Android device and how will it differ from the Evoke? Since the Evoke clearly mimics the iPhone's basic approach of a touch-based home screen with widgets, will Apple live up to its threats and go after Motorola to vigorously protect its patents? And will the Evoke use Flash to go along with its full-HTML browser?
Mobile device action is really starting to heat up for this summer, with the introduction of new devices from Motorola and Palm, and the guessing game surrounding Apple's Worldwide Developers Conference in June. Of course, with continuing economic troubles and a slowing market, all three companies need to be very sensitive to pricing as disposable incomes shrink across the country.