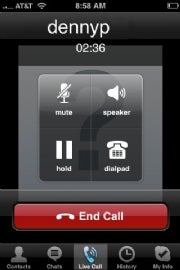 At long last, Skype has made it to the iPhone. And based on my early tests of the popular voice-over-IP app, I'm happy to say it was worth the wait. Skype for iPhone certainly isn't perfect, but it looks good, is easy to use, and offers excellent voice quality–particularly when making Skype-to-Skype calls.
Skype for iPhone offers features similar to those found in the company's other mobile versions, which work on Windows Mobile, Android, and Java-based phones. It lets you see when your Skype contacts are online and available; make free Skype-to-Skype calls; use the SkypeOut feature to make calls to landlines and cell phones; send instant messages to your Skype contacts; and receive incoming calls via a SkypeIn number. You can't make video calls or conference calls, as you can with the desktop version of Skype, but you can, reportedly, accept an incoming conference call (though we weren't able to test this feature).
Getting Started
I downloaded Skype from the App Store, signed in with my user name and password, and the app automatically imported all of my account info, including my contacts and the available balance in my SkypeOut account. The interface is very similar to the Windows Mobile version, though it does have an iPhone feel. The dialpad, for example, looks very similar to the iPhone's own dialpad; the same is true of Skype's contact list, which offers an iPhone-like filtering tab.
Skype for iPhone requires Wi-Fi to make any kind of voice calls. 9to5Mac was able to make voice calls over AT&T's 3G network on an iPhone running the not-yet-released 3.0 software; we tried the same thing on a 3G iPhone running the current 2.2 software, and were unable to connect.
Voice Quality Great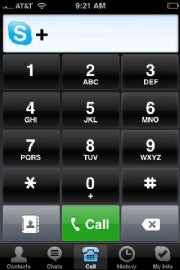 Voice calls made over Wi-Fi sounded very good, though. Skype-to-Skype calls were loud and clear, with quality that was better than your average cell phone call. SkypeOut calls made to both landlines and cell phones weren't quite as sharp, but the overall quality was very good, and was comparable to a very good cellular call. On one call I heard a noticeable and distracting echo, but it lasted less than a minute. The existing SkypeOut rates, which start at 2.1 cents per minute, stay the same on the iPhone.
In all, calls made using Skype for iPhone were of significantly better voice quality than any of the mobile VoIP services I tested for a recent PC World story. That roundup included Skype for Windows Mobile and Truphone, a Skype-like service for the iPhone. Skype for the iPhone blew them both out of the water in terms of voice quality.
A Few Glitches
Skype for iPhone is not without flaws, though. It showed one of my contacts as offline, even though he was connected. (It wasn't until he called me that his status changed to show him online.) And the app was occasionally slow to respond to taps on the touch screen; I sometimes experienced a noticeable delay when trying to initiate or end a call, for example.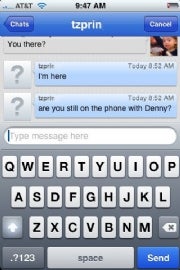 You won't find a whole lot in the way of iPhone-only features in this version of Skype. You can use your iPhone camera to take a picture to use as your profile photo, or you can upload a picture from your existing photo roll. But that's about it. Still, if you're looking for a solid mobile VoIP service for your iPhone, I can easily recommend Skype. Sure, rival services like Truphone have some features that Skype for iPhone lacks–such as the ability to chat via third-party IM services like AIM and Yahoo Messenger. But, to me, call quality is what matters. And Skype wins that battle easily.