For those digital photographers who long for film-like styling, grain, and effects, VirtualPhotographer is a simple, yet satisfying program. VirtualPhotographer is a free plug-in filter for 24-bit photo imaging programs such as Photoshop or PaintShopPro, but it works on 24-bit RGB images only.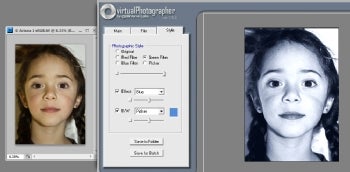 Download and installation are easy. Once installed, it appears among your other filters and can be initiated from within the program to work on the active image.
Options are limited, but straightforward, and give nice quality results. If you've ever worked in a film darkroom, you'll recognize the terms and effects for film-like grain, duotones, toning, brightness, contrast and so forth.
Virtual Photographer is not an end-all, be-all filter. But as far as it goes, Virtual Photographer does a rather nice job, and is a good first step in imaging that may give you just what you want without having to go further. Given that this little program is free and could possibly be the answer for small edits, it's certainly worth adding to even a professional system.