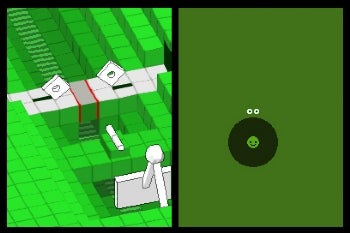 Rhythm Heaven: The Bus Ride Review One man. One game. One morning commute.
Nintendo assumes that I have rhythm. Big mistake. I'm a nerdy guy. I have what my Mom calls, "Dancing Issues." I'm just trying to play Rhythm Heaven on the 30-minute ride to work. Good luck.
Do you know how to flick? (It's right up there with walking and chewing gum at the same time). If so, then you've already mastered the essential skills required to play Rhythm Heaven. Holding the device sideways like a book, you flick your stylus across the touchscreen to the beat. The activity could be something as simple as driving a peg through a hole or getting a glee club to sing in harmony — or become a DJ's apprentice and use the screen to scratch and break up the beats.
It's like a musical WarioWare. Or maybe they should call it, "Flick Hero." That's the whole charm of this 50-minigame collection–simple games and good tunes. Dig in and you can unlock standalone mini-games. But I do have a couple of fair warnings for you: First, this is not ideal for a bumpy bus ride. Or a turbulence-filled flight. This game depends on you tapping the screen in time. Screw it up enough and you're doomed to repeat the same song over. And over. And over. Like I did this morning.
Something else to kep in mind: In order to truly appreciate this game, you're going to need a pair of headphones. I don't care if it's earbuds or big, noise-cancelling monstrosities. The point: You not only need to hear the music undisturbed in order to appreciate this game, you'll want to because the music sounds great.
Going strictly off the fact that I'm reviewing games on a bus, Rhythm Heaven can be a bit of a pain when you're on-the-go. (With all the bouncing around, you'll invariably miss the beat). That might be the only reason that I'd ever consider dinging the game's score at all. That said, the second you plant your keister on terra firma, you'll get addicted to the gameplay–and the music.
($35, Nintendo DS)