Earlier this year, Sony unveiled three hard-drive-based high-definition camcorders that also offered built-in GPS tagging and sorting of clips. Today, the company announced the Sony HDR-TG5V Handycam, a more compact high-definition camcorder that offers those mapping capabilities in a very slim, all-titanium frame.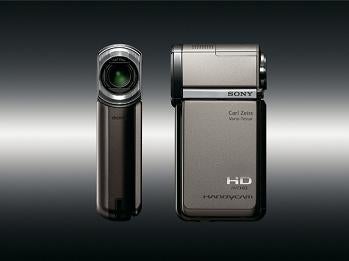 Billed as a travel-friendly camcorder due to its GPS capabilities, durability, and compact size, the HDR-TG5V uses Navteq mapping software to sort and display recorded footage on a digital map interface.
Slightly beefier than a pocket camcorder, the titanium-framed HDR-TG5V Handycam offers 16GB of flash storage (plus a Memory Stick Duo slot) and records full HD video (1920 by 1080 resolution) to AVCHD format.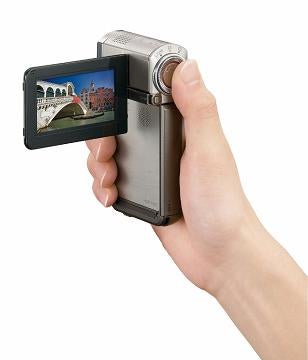 According to a press release, Sony says the 16GB drive holds up to 2 hours of full HD footage at the highest-quality setting and more than 6 hours at the lowest-quality video setting.
The HDR-TG5V also offers Sony's latest Bionz image processor and Exmor CMOS sensor, a 10X-optical Carl Zeiss Vario Tessar zoom lens with optical image stabilization, the ability to shoot 4-megapixel stills, and a built-in flash. A flip-out, 2.7-inch-diagonal touchscreen LCD can access most of the camcorder's features, which include a smile-triggered shutter for still images and face detection for both video and stills.
Due out in May, the Sony HDR-TG5V Handycam will sell for around $1000.