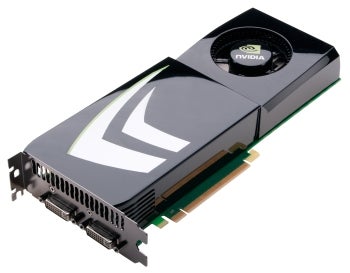 Today, NVIDIA officially announced the GeForce GTX 275 mid-range video card, the latest addition to its performance GPU lineup. With the goal of being the best bang for your buck graphics card on the market, the GTX 275 offers a combination of performance, physics, and GPU computing power for budget conscious consumers. Interested? Check out a few highlights:
633 MHz GPU Clock
1404 MHz Shader Clock
1134 MHz Memory Clock
240 Processor Cores
80 Texture Processing Units
448-bit Memory Interface
896 MB GDDR3 memory
Physically, the video card is 10.5″ in length, requires two 6-pin power connectors, and sports a dual slot heat sink. In addition, it uses a PCI Express 2.0 x16 interface while providing two DVI outputs.
The GTX 275 is set to battle the HD 4890 and, according to NVIDIA, claims a 10-35% performance edge over ATI's offering in various benchmarks and tests. As more reviews and comparisons are published, we'll find out how accurate that statement is. For now, you will have to wait a couple of weeks to purchase this product. Expect wide availability by April 14, 2009 at a price of $249.
Follow us on Twitter @geektech for your daily fill of tips, hacks, hardware, and even more nerdery.