What kind of broadband connection does your netbook have? Is it a landline, Wi-Fi, or mobile network connection? AT&T executives believe that, going forward, such distinctions will blur as the company provides all types of high-speed service to its customers.
"We're changing the game in broadband," Ralph de la Vega, CEO of AT&T Mobility and Consumer Markets, told reporters and analysts at the carrier's annual CTIA lunch on Tuesday. "We think we're in the beginning of the next wave of growth, and it's mobile broadband….The day when you had to rely on a tethered connection to get good broadband connectivity, those days are over."
De la Vega said that AT&T Wireless now offers 3G service in more than 350 markets, with 20 additional markets expected by the end of the year. AT&T's acquisition of Wayport has made it the top Wi-Fi hotspot provider, as well, with 20,000 locations in the United States and 80,000 worldwide.
AT&T projects global mobile data revenues to rise from $148 billion in 2007 to $347 billion in 2013, when that segment will account for a third of the company's revenues, de la Vega said.
Several factors will drive the growth. David Christopher, chief marketing officer for AT&T Mobility and Consumer Markets, said that new applications will be important, as three-quarters of the cell phones AT&T Wireless now sells support 3G data networks.
To help promote applications for 3G-enabled non-smartphones, AT&T has launched a new Apps Beta program, which will allow consumers to download and try out applications and then provide feedback to developers, who are invited to submit apps through AT&T's Web site. Christopher said that popular categories include social networking aggregation and user-generated content.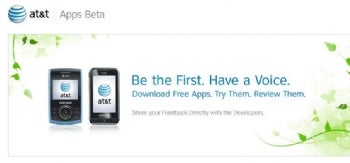 AT&T stores will be training their salespeople to demonstrate the top apps to customers who might otherwise never be aware of them, he said.
AT&T is also trying to develop apps that will leverage all of its broadband services. For example, AT&T customers will be able to access information about the upcoming Masters golf tournament (such as leaderboards and text updates) via the company's Uverse IPTV service, on both PCs and cell phones.
"We're making it available across all the ways that you interact with us," Christopher said.
Matt Crowley, chief marketing officer for AT&T Interactive, talked about efforts to upgrade search applications such as Yellowpages.com. A new version will be available for the iPhone later this spring, he said.
Glenn Lurie, in charge of emerging devices for AT&T, sounded a lot like his counterpart at Verizon Wireless (Tony Lewis) when he talked about the range of devices that AT&T expects to see on the network in the years to come. Lurie is one of the movers behind the push to offer netbooks in AT&T stores. While wireless-data plans usually cost $60 for up to 5GB of data, AT&T has just begun a trial of a $40-per-month, 200MB-cap plan in Atlanta and Philadelphia.
AT&T also announced experimental plans to subsidize netbooks purchased with landline broadband plans.