Drift City is a massively multiplayer racing game with a fabulous Korean comics ("manhwa") coat of paint. Instantly recognizable to those that played the classic Sega arcade and home console game Crazy Taxi, the object of free game Drift City is to run missions for the government and private delivery services in order to protect the populace from menacing unmanned vehicles that roam the city. All of this story serves as an excuse to race around the city at breakneck speed.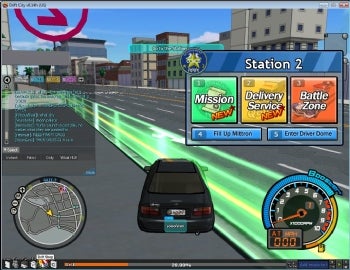 Drift City is a large standalone app, as well as a browser plug-in for Firefox or Internet Explorer. The "FX Launcher" browser plug-in installation ran fine and installed correctly on Firefox 3.0.8. The game must be launched from the Web site; annoyingly, launching the game from a desktop icon fires up Internet Explorer, regardless of your default browser.
The name Drift City comes from the ability to hold down Shift and slide, or drift, your car. This sliding technique lets you take corners very quickly, and is an exaggeration of real-life drifting (as seen in movies such as The Fast and the Furious: Tokyo Drift). The game rewards risks like this by filling up your boost meter more quickly, and a tap of the Control key activates this boost, sending your car into super speed.
The game controls very well with a keyboard, though a USB steering wheel controller would be a good investment for serious drifters. The graphics for the menu screens and interface are bright and colorful, but the actual in-game graphics leave something to be desired. At fault here is the game's tendency to pop in graphics, or draw in game elements too close to the foreground. At the speed you're driving, that means sometimes obstacles don't appear on the horizon until you're almost on top of them. In a few instances, cars in the distance appeared, then disappeared, then appeared just in time to crash into them. There seems to be no way at all to adjust graphics or any other game settings, so you're stuck with default video quality.
Despite this being a massively multiplayer game, there really aren't groups or raids to speak of. Missions are solo, and there are player vs. player racing arenas scattered around the city.
Other than the pop-up issues, the game is a lot of fun. Level-ups are frequent, and it doesn't take long before you're behind the wheel of a new and different car, all of which handle differently. Like all of NHN USA's online games, Drift City is free, so fire it up and drift away.
Note: Although the game is completely free, there's a publisher-wide currency called G Coin that is purchasable with a credit card. This G Coin can be used to buy your way into in-game upgrades that would normally take some time to earn.