Twitter's trying to step up its game with a newly introduced Discovery Engine — a souped-up search feature coming soon to your Twitter home page. The futuristic-sounding service packs some extra punch into Twitter's existing search functionality and could give the site's Web interface a much needed jolt of energy.
Twitter Search: The Discovery Engine
The Discovery Engine is described by Twitter co-founder Biz Stone as being a "far more awesome" version of the site's current search capabilities. Still under testing with a limited subset of users, the updated tool brings real-time Twitter search right into the home page sidebar. When you conduct a search, the results appear there, too, popping up in the big white box instead of on a new page. You can also track the hottest trends on Twitter at any given moment within the same space.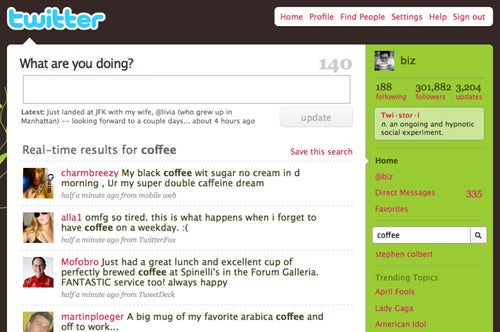 Twitter Saved Searches
Perhaps the most valuable addition in the Discovery Engine is its "saved search" feature. With it, you can create a permanent space on your sidebar to keep tabs on any term you want — say, your name, your company name, or the name of a band you like to discuss. Twitter will maintain an active link there so you can monitor discussions surrounding that term without having to continually search. Think of it as Google Alerts for Twitter, built right into the site.
Discovering Discovery
Not too shabby of an addition, eh? Here's the biggest problem with Twitter's new Discovery Engine, though: Most people may never even discover it. Sure, the Twitter team plans to implement the service site-wide sometime soon — but honestly, how often do you actually use the Twitter.com interface? I don't have any official stats to back this up, but anecdotal evidence suggests the vast majority of regular Twitterers use a third-party program like TweetDeck or Twhirl to manage their tweets. Twitter's own interface is so limiting compared to those API-driven utilities that it only makes sense.
Still, it's good to see the company taking steps to strengthen its own setup and add a little more value into its site. A few more tweaks, and maybe — just maybe — new Twitter users of the future will have a reason to at least check out the site's own interface before turning to an external solution.
What would it take to make Twitter.com usable for you? Shoot me a message and let me know. Just don't tweet me any twaddle, or I might twinge — and that would be, well, tewwible.
Connect with JR Raphael on Twitter (@jr_raphael) or via his Web site, jrstart.com.