Windows doesn't have a very good memory. I mean, when I reboot my system, it doesn't even remember the folders I had open! It's like they were never even there! Now I gotta go manually open each one again, grumble, grumble…
Or not. There's actually a very simple Windows tweak that keeps open folders open, even after a reboot. It's like giving Windows the gift…of memory. Here's how to enable the setting: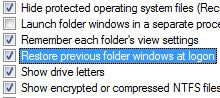 1. Click Start, type Folder Options, and then hit Enter. (XP users can find Folder Options in the Control Panel.)
2. Click the View tab.
3. Scroll down until you find Restore previous folder windows at logon, then click the checkbox to enable it.
4. Click OK and you're done!
Pretty simple, right? But if you frequently work with folders open and wish you didn't have to manually re-open them every time you start Windows, this simple system tweak should prove incredibly handy.