Acer took a big step forward with its multibrand strategy Tuesday, aiming at increasingly smaller demographic slices of the PC market with the launch of two dozen products ranging from wide-screen, all-in-one PCs to tiny nettops.
At an evening launch event outside of New York City in New Jersey's Liberty Science Center museum — which preceded similar gatherings in Beijing Wednesday and Amsterdam Thursday — Acer CEO Gianfranco Lanci and other officials reiterated the mantra "thin and light" as central to their design goals.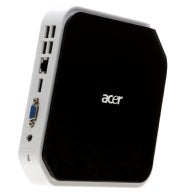 Long battery life and low price were also mentioned constantly as officials rolled out the new Aspire Timeline notebooks, AspireRevo nettops, all-in-one PCs and netbooks.
"We want to elevate the bar for innovation," Lanci said to a crowd of channel partners and media.
"During this time when people are cutting costs and paying more attention to operating expenses we are doing the same but we aren't doing anything to interfere with R&D and product development," Lanci stressed, noting that the company is building a new research center in Shanghai.
When pressed during a question and answer session about whether the low-priced devices and new technology will further put pressure on the company's already low margins, Lanci said that Acer's margins are not that much lower than the major hardware makers. "In fact ours are staying the same, and the other's are coming down to join us," Lanci retorted.
In a time of increasing market consolidation and decreasing technical differentiation among PCs, Lanci said he was more convinced than ever that "a multibrand strategy is the way to go." Acer will keep the Gateway and eMachine brands, he said. The technology inside the branded machines will be the same, while the external design, colors and marketing will differ as the company reaches out to different market segments with each brand.
People attach different attributes to different brands and make emotional buying decisions based on these characteristics, he said. Extensive market research, for example show people associate eMachines with "value;" Acer with "performance;" and Gateway with "social recognition and cutting edge design."
While notebooks and the all-in-one PCs will run Vista and, when it comes out, Windows 7, for now the netbook lines will be running XP, said Lanci and Jim Wong, head of Acer's IT products business.
The officials were somewhat cautious about Windows 7 on netbooks. "When the new netbooks come out, we'll be able to use XP for about another year," said Wong. "We're negotiating on Windows 7." The negotiations are about "the user experience" Wong said.
"XP was solid and stable when it came out and it's still old faithful," said Jeff Zolnowksi, a senior engineer. "Windows 7 is looking like it's going to be that, and if it is we'll be able to use it in the netbooks."
For now, the Google-backed Android platform, aimed at smartphones, is not a suitable candidate for netbooks, officials said.
"The netbook needs to be a full Internet experience. Android is not that, yet," Wong said. But Acer continues to test Android, and the officials did not rule it out for netbooks in the future.
Not all product details were available at the U.S. launch Tuesday. The bulk of the Acer brand products will be launched in the next few weeks in the U.S., with staggered rollout throughout the world.
The new machines introduced Tuesday included:
–The new Acer Aspire Timeline, offering up to eight hours of battery life by incorporating Intel's Core 2 Duo ultra-low voltage chips and Display Power Savings Technology (DPST). The machine is 24 mm at its thinnest point and 29 mm at its thickest point, weighing 1.6 kg for the 13.3 inch version and 2.4 kg for the 15.6 inch model. There is also a 14-inch model. An LED backlit display will offer a 16:9 aspect ratio, 1366×768 HD resolution. The Timeline will offer up o 500GB of HDD capacity or 64GB of SSD. It will be available in June with a global staggered rollout. The product is expected to be available in June in the U.S., a spokesman said.
–Acer All-in-One PCs, including the Aspire Z5600, with a 24-inch display, touch screen ability, HDD capacity up to 2TB, and MXM graphics chips. The Z5600 will ship with Windows 7 by the end of the year, officials said.
–The Acer Aspire One 11.6-inch format netbook, available in white, dark blue, red and black. The new netbook is 2.5 cm thick and incorporates Intel's Atom chip and Mobile Intel US15W Express Chipset, and features a 160GB hard drive.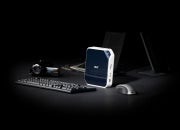 –The Acer AspireRevo, a nettop PC incorporating Nvidia's Ion platform with Intel's Atom 230/330 chip and aimed at home multimedia and gaming environments. The AspireRevo has 1080p HD video, a Serial ATA hard drive or Solid State Drive (SSD) and up to 4GB of DDR2 memory.
–The Gateway EC series notebook, touted as more than 1 lb (500 grams) lighter than a standard notebook and under 1 inch thick, for mobile users concerned about power consumption. A switch allows users to deactivate the graphics cards supported by the chipset, prolonging battery life to up to eight hours. The notebook sports a 13-inch LED backlit display with 16:9 aspect ratio and offers Dolby Sound Room audio, a webcam, optional 3G and Bluetooth, HDDI and DDR3 RAM.
–New eMachines notebooks including the D series, in a 14-inch format with up to 500GB of hard drive capacity, Celeron or Pentium chips and up to 4GB DDR2 memory; the E series, offering Pentium mobile, Celeron mobile or AMD Athlon processors and up to 4GB DDR2 memory and a 15.6-inch panel; and the G series, with a 17-inch LED backlit panel, up to 500GB of hard drive capacity, 4GB of DDR2 capacity and choice of Pentium mobile, Celeron mobile or AMD Athlon processors.