How much full-blown laptop power can be packed into a small, lightweight chassis—and at a budget-minded cost, no less?
This week Intel announced its second-generation Atom processor; Acer unveiled a slew of new netbooks and a small desktop PC dubbed a "nettop" based on Nvidia's Ion platform; and Hewlett-Packard began shipping its Pavilion dv2—the first laptop to use AMD's Neo chipset. Clearly there's mounting competition in the growing netbook/mini-notebook category that Intel's Atom CPU currently has a near-stranglehold on.
Though some netbooks are similar in size and weight to traditional ultraportable laptops, they deliver mobile computing at a fraction of the price to an increasingly mobile and always-connected audience. Research firm Gartner expects 21 million netbooks will ship this year, nearly double last year's total.
But netbooks are already growing up, as manufacturers add features and increase screen sizes (likely necessities as some users tire of cramped designs common in early models). As vendors introduce 'tweener laptops with specs that straddle the line between "netbook" and "ultraportable," competition will only heat up. Here's what's in the pipeline.
Intel 2-GHz Atom: Windows 7-Ready
The new Intel Atom Z550 — one of two new Atom CPUs launched a year after the first-gen Atom hit — is a 2GHz CPU that incorporates Intel's Hyperthreading technology for improved multitasking and graphics performance. Although no new products were announced, the new chips are already available to manufacturers; and we expect to see products later this year.
Intel also announced that it plans for all of its Atom processors, including the latest ones, to support at least two of the many Microsoft Windows 7 versions. The Windows 7 support is expected in the second half of this year.
Nvidia Ion Platform
Acer's just-announced AspireRevo mini desktop is the first product to use Nvidia's Ion platform. The technology boasts superior graphics compared to existing nettops (low-cost desktops that essentially repackage the specs of a netbook into a minimal design), such as the Asus' Eee Top 1602 All-in-one PC and Eee Box Compact desktop.
The AspireRevo pairs Intel's 1.6-GHz Atom N230 CPU with Nvidia's GeForce 9400M GPU and CUDA graphics technology. Acer says the system measures about the size of a "typical" hardcover book, and can handle high-definition 1080p video and DirectX 10 graphics. The unit is expected to ship later this year, likely in time for the late summer back-to-school rush.
AMD Athlon Neo in the Mix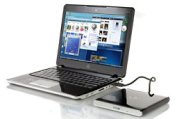 Meanwhile, AMD is positioning its Athlon Neo platform as a more powerful step-up from Intel's first-generation Atom chip. The HP Pavilion dv2 ultraportable laptop (the first system to use 1.6-GHz Athlon Neo MV-40 CPUs), illustrates that it's possible to deliver more computing potential than ever before in a small package.
The Pavilion dv2 weighs just 3.8 pounds and packs in 4GB of RAM, a 12.1-inch display, a 320GB hard drive, and discrete ATI Radeon HD 3410 graphics with 512MB of video memory. The slim unit costs just $749—more than the least expensive netbooks, but not significantly more than the excellent HP Mini 2140; and less than the smaller-still, but less versatile Sony VAIO P.
Coming Soon: Via Nano
As if the three-way battle that's shaping up isn't enough, Via — which claims to have 10 to 15 percent of the netbook market — is in the hunt for a piece of this new ultraportable pie, too. Via's 1.3-GHz Nano CPU will surface in the soon-to-ship Samsung NC20; this unit features a 12.1-inch display and weights just 3.3 pounds.