Let me be clear up front: This is not a review of Samsung's newest netbook, the NC20.
It is, however, a very opinionated hands-on. This machine came to us straight from Korea with foreign lettering on the keyboard and a Korean version of Windows XP. We had to reinstall our own software and grab drivers and application suites off a UK site, but we got the thing working. I wanted to give you the skinny on this as we wait for the final U.S. version to show up from Samsung.
The NC20 is a huge machine by netbook standards (it has a 12.1-inch screen). I wouldn't be surprised if you mistook it for an ultraportable-class laptop sold on the cheap. And technically you'd be right. If anything, this model defies the 10.1-inch, Windows XP netbook mandate. Size aside, the only reason we can't give the machine a score is that it isn't the full retail version you'll find on store shelves. The U.S. configuration will be a little better, with improved battery life and a bigger hard drive (I'm told a 160GB one as opposed to the 120GB version I have here), and it should sell somewhere in the neighborhood of $550. But while we wait for a U.S. system, there's enough in the Korean edition to give you a taste of what's to come.
The NC20 that we're currently playing with runs Windows XP, has less than 1GB of RAM (896MB, according to the System Properties tab), uses a 1.3-GHz VIA Nano U2250 CPU, and packs an S3 VIA Chrome9 HC3 integrated GPU. It doesn't take a rocket scientist to figure out that VIA hooked us up early so that we might extole the virtues of the machine and how it survived the WorldBench 6 gauntlet compared with Atom CPU-based netbooks.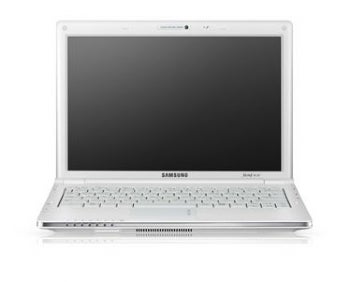 How does it stack up? To be fair, I need to explain something about our WorldBench tests first. Some of the test applications have a minimum resolution of 1024 by 768 pixels. That means we can't run those tests on many netbooks (since they can't support 1024 by 768). While Samsung's NC20 earned a score of 42–beating the Lenovo IdeaPad S10 by a point–its larger screen may have had something to do with the results. And I find myself wondering how the NC20 will fare against newer netbooks and not-quite-netbooks that sport AMD's new Neo CPU (such as the HP Pavilion dv2). Considering that the dv2 has the same native resolution as the NC20, it could be an interesting matchup once we have final test results from both machines.
After the CPU, the screen is probably the second-biggest star feature on this netbook. And it really is a "star"–it's bright and crisp, indoors and out. Yes, you will catch a bit of a glare here and there, but the 1280-by-800-pixel panel picks up color really well. Purples and blues pop, while dark spots remain appropriately so, not turning into an ashy gray. Not only does the screen look good, but the larger size also lets it handle a wider variety of applications than "small" netbooks with 10.1-inch screens can (as I just mentioned above).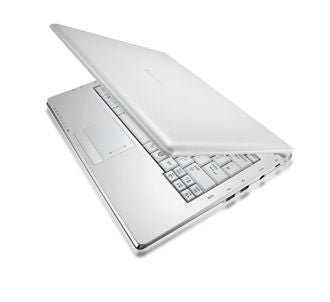 Besides the large screen, you get a close-to-full-size keyboard on the NC20. The English letters are on there, somewhere (on our test machine, at least). The keys are reasonably well spaced–with the exception of the function buttons, which get inexplicably lopped in half. But once you set your heart on typing, the keyboard is firm and gives enough tactile feedback for you to know that you're pressing something. While it would have been better for the buttons to be a little wider (the smaller HP Mini 1000, by comparison, has a larger keyboard), this machine's setup is perfectly acceptable. As for the touchpad, it's comfortably fitted below the keyboard. With the multitouch drivers in place, it can handle zoom functions; and the scroll zone on the right side makes Web navigation a breeze. The mouse button itself–a long strip that contains both the left- and right-mouse clicks–is just the right size for my goony adult-male mitts.
The video performs well enough. I was able to run a 720p WMV file, and it played without any major hang-ups. And the sound? Well, let's just say that despite the Enhanced Digital Sound, you're better off going for headphones over the tiny, tinny built-in speakers. They may be a little on the loud side, but they come off as hollow.
Otherwise the NC20 is fairly standard for a netbook, equipped with three USB ports, a Webcam, headphone and microphone jacks, ethernet, VGA-out, and 802.11n and Bluetooth wireless support. And while the battery will be replaced by a beefier version in the States, it's good to see that the model we tried survived for 5 hours, 24 minutes in our endurance tests. We'll obviously have to revisit that test once we have the U.S. version of the machine.
The software is a bit tricky to discuss, since–aside from the whole OS-in-a-foreign-tongue issue–we had to track down drivers from another country to install on this hot import. Will everything we collected be in the final U.S.-bound system? Yes. We asked a Samsung spokesperson, and he confirmed that the below-mentioned apps will be on-board–and invaluable.
Samsung Recovery Solution III is a handy backup and system-restore program that even throws in a couple of suggestions regarding the possible causes of your machine's problems, giving you a recommended course of backup action to solve the matter. Easy Network Manager lets you quickly and effortlessly connect to networks; it's a superfluous bit of software for anyone remotely savvy enough, but it puts a pretty face on the standard Windows XP option. I even like the well-annotated and easily navigable digital user guide. I'm not kidding–I wish every netbook came this well prepared for battle.
As I said up top, I'm told that the NC20's North American counterpart will be even better (with a beefier battery and more). And it'll come in sleek black, not white. Check back for our full, real review of the the U.S. version, coming soon.