Ever receive an e-mail in a different time zone and fail to compute the difference before following-up? Well, Gmail has you covered! What's that? You've never had that problem? Neither have I. Gmail has us covered anyway, as it introduces yet another mostly useless feature in Labs.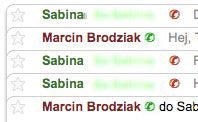 Sender Time Zone informs you of the … sender's time zone, presumably so you don't ring them at inappropriate hours. A little green phone appears next to the sender's name if it's alright to call; a red phone says no-no. The ridiculousness of this feature is that it assumes people still make phone calls, and do so instead of simply responding to the e-mail. It also implies that people who make trips into other time zones aren't capable of figuring out the time difference.
I understand that Gmail is still in Beta, and that many of these "innovative" features are optionally available in its Labs section, but how long can we say "It's still in Beta!" before realizing Gmail has packed on as much bloatware as Microsoft Word? And, on that topic, how long is it going to be in Beta? Would slapping the Beta tag on Microsoft Word make its jungle of useless, fatty features seem justified?
I think Google could spend its time more wisely on stuff we'd like and use, such as a Chrome browser for Macs.