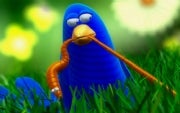 The malicious worm affecting Twitter over the weekend has now mutated and continues to invade the popular microblogging network. Although Twitter is taking action against the problem, security analysts fear that further mutations of the worm will continue to wreak havoc on the network over the week.
The worm, appearing as "" or "StalkDaily", was created by the 17-year-old Mike Mooney "out of boredom" and is now generating thousands of spam messages containing the word "Mikeyy." This is the fourth attack by the worm in the last four days, which sends Twitter messages from infected accounts, without the owners' knowledge.
How to keep safe from Mikeyy
First of all, experts advise Twitter users not to click on any links from messages containing the words "Mikeyy" or "Stalkdaily." It is recommended you use third-party Twitter desktop clients like Twhirl or TweetDeck (both PC and Mac) and that you do not use the Web-based version of Twitter, especially for viewing user profiles (as this is where the attack seems to originate).
As an additional security measure, you can disable JavaScript in your browser. Firefox users can use the no-script add-on, which stops any unwanted scripts from running.
How to remove Mikeyy
If you've noticed any suspicious activity from your profile that includes the words above, then most certainly you're infected. It is very important for users not to retweet (RT) any of the fake messages.
Clear your browser cache and turn off JavaScript. Log into Twitter and delete any messages your profile automatically posted that contain the word "Mikeyy". You can turn JavaScript back on so you change your bio and URL, and reset your color scheme from your profile. Additionally, changing your password could be a safe measure.
After all the steps above were completed, log out of your account and you can continue using Twitter via a desktop client.
You can follow Daniel on Twitter at @danielionescu