When we last left our intrepid blogger (way back on Friday), he'd pointed the finger at Vista's Disk Defragmenter and cried, "J'accuse!"
To recap, my otherwise blazing PC was suffering from inexplicable (and temporary) slowdowns. After months of troubleshooting efforts, the culprit turned out to be Disk Defragmenter.
Apparently, Microsoft's drive-optimization utility is skilled at covert operation. It routinely ran during the day, while I was working, and wasn't smart enough to pause in the presence of other system activity (like typing). Oh, and it steered clear of Task Manager, the sneaky little bugger.
Today I want to follow up on the situation and provide a few additional thoughts:
1. Hard drives do indeed get fragmented over time, which is why defrag utilities exist. I'm so done with Microsoft's, but in an impressive display of perfect timing, our own Preston Gralla just wrote up a splendid (and free) alternative: Smart Defrag. Most attractive feature: "Auto Defrag, which defragments your hard disk only when you computer is idle, so that you don't interrupt or slow down any work." A-doy!
Auslogics Disk Defrag is another popular freeware defragger, just in case you want to evaluate a few candidates.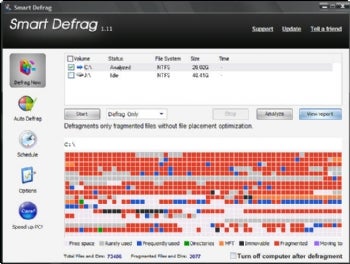 2. I should have clarified that my system slowdowns were due to excessive disk activity, at least based on my observations of Windows' Resource Monitor. CPU and RAM activity were more or less normal.
3. Early on, I started to wonder if the system had been infected with some kind of malware. After all, suddenly sluggish performance is a definite sign of viruses or spyware. And as you'll read in a feature just posted on PC World, I don't use security software. Go ahead and call me crazy, but at least wait until you've read the story. The fact that one of Windows' own tools turned out to be the culprit just reinforces my argument.
I'm telling you this to head off any nay-sayers who come back and say, "It's not Disk Defragmenter, moron, it's a virus!" Trust me, it's not.
Anyway, I'd definitely like to hear from any other Vista users who've encountered this problem (and identified Disk Defragmenter as the cause), as I really do think it's a bug that should be reported.