Take me out to the ballgame, just don't forget my Nintendo DS. And no, I won't be whipping it out to pull off a bunch of modish combos in Chrono Trigger, or to bust six star cop squads in Grand Theft Auto: Chinatown Wars (though in theory I still could) because I'll actually be too engrossed scanning MLB stats and parsing standings and peeping the latest ESPN tickers and ordering a couple ballpark franks with chili-cheese and extra onions, hold the relish.
So say the folks at Nintendo, that is, who plan to update their Nintendo Fan Network's wireless sports news service by partnering with ESPN to ante up the content and branding profile.
The original idea was fiendishly clever: Just slap your Nintendo DS in your pocket out the door to a Seattle Mariners game at Safeco Field and for five bucks you could check out the players, order food, watch videos, play games with other fans in the stadium, and track the latest stats on other games — all without leaving your seat.
This year ESPN's stepping in as an official partner and adding Mariners-related content, general sports news and headlines, fantasy sports bulletins, baseball columns from ESPN's top name writers, and something called ESPN Zoom Game that involves matching photos. (Baseball card Concentration?)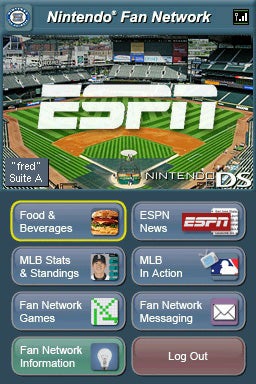 "Whether you're watching live video, ordering food from your seat or checking scores, the Nintendo Fan Network enhances the game-day experience for families and baseball enthusiasts alike," says Cammie Dunaway, Nintendo of America's executive vice president of Sales & Marketing.
But here's one I wasn't expecting:
Howard Lincoln, CEO of the Seattle Mariners, adds
Our goal is to provide the best possible fan experience at Safeco Field. The Nintendo Fan Network gives users access to features and information that allow them to get the most out of their visit to the ballpark.
Ahem, Howard Lincoln? You know, the former chairman of Nintendo of America? Just shows how much I'm up on the Seattle Mariners…or the careers of former Nintendo honchos.
Where's Nintendo's spanking new DSi in all this? Apparently the Nintendo Fan Network's offering the first 150 folks who raise their hands at each home game a free DSi to rent for the first three months of the season.
Get the where, when, and how at www.NintendoFanNetwork.com, or visit one of the kiosks located near sections 127 and 143 inside Safeco Field.
For more gaming news and opinion, park your tweet-readers at twitter.com/game_on.