Runes of Magic is something almost unique in the world of free to play (F2P) MMORPGs: It's worth the price. In fact, it would be worth paying money to play this game. To a large extent, Runes of Magic is a clone, or at least a close relative, of World of Warcraft. The art style, interface, and some gameplay mechanics are very similar. Other systems, such as player housing and some aspects of crafting and travel, differ. If you like WoW, you will probably like RoM; if you absolutely hate WoW, nothing in RoM is likely to be different enough to appeal to you.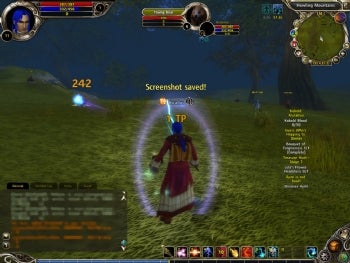 Runes of Magic is a "free to play" game, but that does not mean the company is running it as a charity. Runes of Magic is what is known as an "Item Shop" game, where you can exchange real-world money for in-game currency (in this case, Diamonds), which you then use to buy virtual items from the item shop. These include weapon upgrades, special mounts, furniture for your house, and the ability to "respec" (change aspects of) your character). In theory, the total game experience–all content–is available for free. You will never have to buy anything. However, many useful abilities and special features cost Diamonds. If you are interested in player-versus-player activity, rest assured your opponents spend a lot of money on getting the very best possible equipment, and a player relying solely on what can be found in-game will be at a disadvantage.
Runes of Magic has very standard gameplay. You take quests ("Go kill 5 small bears") and get rewards, which make you more powerful, so you can take more difficult quests ("Go kill 10 large bears"). Monsters drop magic and treasure when they are slain. There are dungeons to explore, quests which require a full team of party members to complete, long and involved quests to earn powerful items, waits for rare monsters to "spawn", and so on. If you have played WoW, Everquest, or Lord of the Rings Online, you know the basic gameplay style. It's fun, which is why so many games follow it, but other than some small variants in mechanics, there's nothing revolutionary here.
Despite being a conversion of an Asian game, I saw no glaringly obvious translation flaws. (Many such conversions are very poorly done.) There are a handful of minor bugs–some quests seem to work sporadically, and sometimes long text windows cannot be properly scrolled–but these are typical issues with newly released MMORPGs. While gaining experience at low levels is easy, some things, such as crafting and gathering, can be a grind, requiring a lot of repetitive activity for a very small gain in skill. The gameworld is also considerably smaller than that of most commercial games, but the company has an aggressive plan of content expansion. What makes Runes of Magic good is that it delivers the same quality of gameplay that monthly-subscription games do–without the subscription costs.
Note: The installer program downloads the actual game, which, after it is installed, must patch itself to the current version, a process which can take 1-2 hours.