January's Consumer Electronics Show in Las Vegas is a great place to see new gadgets but they're not always available right away. A couple of the coolest gadgets from this year's CES, Sony's OLED-based Walkman and Samsung's slim Blu-ray Disk player, are now on their way with availability from April.
I got a chance to try out the Walkman at Sony's Tokyo launch event and it's pretty impressive. With Apple starting to serve up non-restricted music through the iTunes Music Store competing players might be worth a second look. Also this month we saw another example of how quickly technology spreads and becomes available. It was less than a year ago that video came to the high-end digital SLR cameras but now its arrived in low-end DSLR models too with Canon's Kiss X3.
During the month we were also lucky enough to glimpse some truly futuristic research – brain control of gadgets! Just imagine your TV automatically switching channels when you start thinking, "this show is boring, I wonder if there's some good movies on." Read on for more!
Sony X-series Walkman
Sony has a new player at the top of its Walkman range. We first caught a glimpse of the NW-X1000 at CES but it's now been officially launched and will go on sale in Japan this month with other markets to follow in the middle of the year. The player has a bright, 3-inch OLED touchscreen and handles music, video, pictures and — at least in Japan – mobile TV too. There's also WiFi and Sony has built in dedicated links to YouTube and Windows Live, so you can perform a search on the song or artist you are currently listening to with just a couple of clicks. There's also a general Web browser. The device is pretty impressive for all it crams into a case smaller than an iPod touch. In Japan there'll be two models: a 16GB model will cost around ¥40,000 (US$400) and a 32GB model will be around $US$500.
Canon DSLR with video
It's only been eight months since video recording arrived in the first hybrid digital SLR (single lens reflex) cameras but already it's reached low-end models with the unveiling of the Canon Kiss X3 (called the EOS Rebel T1i in the U.S.). The camera packs a 15.1-megapixel image sensor and can record at full-HD widescreen resolution of 1,920 x 1,080 pixels, but at 20 frames per second rather than the conventional 30 frames per second. That means the resulting video, while sharp, might appear a little jumpy. For 30fps video the resolution has to be stepped down to a 720-line widescreen mode or a 640-line mode. On a 4GB memory card, the camera will be able to shoot about 12 minutes of video in 1080 mode, 18 minutes in 720 mode and 24 minutes in the standard-definition 640 mode. The EOS Kiss X3 will be available in Japan from late April and in the U.S. from early May where the camera body will retail for US$800. A kit version with an 18-55mm zoom lens will cost $900.
Samsung thinnest Blu-ray Disc player
Back at January's Consumer Electronics Show many were impressed by a sleek Blu-ray Disc player from Samsung that was just 39 millimeters thick. Now that player, the BD-P4600, is hitting store shelves with a US$500 price tag. Features include BD Live 2.0, an interactive system which allows you to grab related content and sometimes extra video from the Internet, and in some versions — although not listed for the U.S. model — is support for DivX video alongside other formats. In the U.S. there's also support for the Netflix and Pandora video streaming services. It will hit major markets worldwide from April.
Sony lightweight, high-def camcorder
Sony's smallest high-def camcorder, the TG1, has been updated. The new version, called TG5V in Japan and the US and (confusingly) TG7 in Europe, manages 1080×1920 full high-def in the AVCHD format and packs a GPS unit. That means the 4-megapixel pictures are geotagged with the location that you shot them — something you might not need now but that could be useful when you're looking back on them in years from now. The AVCHD format used for the video doesn't have space for GPS data so it's stored in an accompanying file but the downside of that is most editing or viewing software won't know how to interpret it. The camera hits shelves worldwide from May and will cost around US$1,000.
KDDI's Iida design phone

Japan's number two carrier, KDDI, knows a thing or too about design. Its "Design Project" handsets have been popular in the last few years and now the company is spinning them off under a different brand, "Iida." The first phone is the G9, which features a big 3-inch display that has impressive 480×864 pixel resolution above a half-keypad on the front face. A bigger secondary keyboard lives under the slider and the phone also includes a 3-megapixel camera. It runs on KDDI's Japanese CDMA network and also includes GSM for international use. The phone's certainly a looker and could prove more popular in Japan than Apple's iPhone, which has been having a hard time achieving the same status it has overseas.
Brother, Fujitsu e-document readers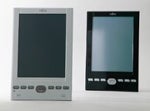 A couple of e-document readers are on their way from Japan's Brother and Fujitsu but both won't be challenging popular consumer products like Amazon's Kindle or the Sony Reader. The Brother SV-100B is designed for commercial and industrial users, has a 10-inch screen and comes with security features such as a four-digit PIN code to hamper unauthorized access and AES 128-bit encryption on stored data. Documents are stored in a proprietary format and can be transferred to the reader via SD memory card, Bluetooth or USB from a Windows PC application. Fujitsu's Flepia has been available before but only to corporate users. That changes with its availability through Fujitsu's Web site. Features include a color screen, which is still rare on e-document readers, built-in WiFi, Bluetooth and Windows CE. Both are likely to be niche products and are priced so with the Brother reader costing ¥140,000 (US$1,460) and the Fujitsu device at ¥99,750 (US$1,000).
Coming soon: 3D photography
Japan's FujiFilm wants to add a new dimension to photography this year: the third dimension. In the battle to differentiate its products in the competitive digital camera market, the Japanese camera maker has developing a prototype camera that features two identical lenses and image sensors. It snaps almost-identical images that are blended together by a custom chip to produce a 3D image. The camera, which was on show in Tokyo recently, has a 2.8-inch 3D LCD panel on the rear of the prototype camera so viewers don't need special glasses. It can shoot stills or video. The prototype 3D camera first appeared at last year's Photokina show in Germany and recently made an appearance a the PMA show in the U.S. and Tokyo's Photo Imaging Expo. It's next step will be onto store shelves. FujiFilm plans to launch its first 3D camera in Japan later this year.
Coming later: Brain control of gadgets
What if a gadget could read your thoughts? That's what engineers at Honda Motor and the Japanese government's Advanced Telecommunications Research Institute International are working towards with a system that attempts to decipher brain activity. In a demonstration shown on video the engineers have developed a brain machine interface (BMI) system that allows a person to control a robot through thought alone. Think about raising your right hand and a robot hooked up to the same machine raises its right hand. It's a long way from being ready to use — for starters it requires the user to wear a large hemispheric scanner like the sit-down hair dryers you find in hair salons — but who knows? One day your TV might be prompted to switch channels when you start thinking the current program is boring.