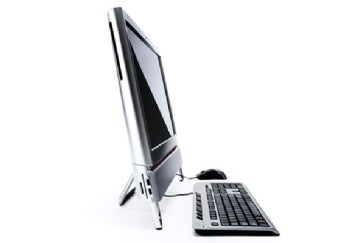 Sales of desktop PCs have been declining for some time now. In fact, notebooks now outsell their deskbound brethren worldwide. This trend isn't surprising, given the convenience, portability and growing affordability of portable PCs. Add to that the rapid ascension of the netbook, with its even smaller dimensions and prices, and shoppers are finding fewer reasons to purchase a bulky desktop unless they crave the ultimate in speed and storage.
But the recent reinvention of the all-in-one desktop, or nettop, may "reinvigorate and redefine" the traditional PC, according to market researcher DisplaySearch. While the all-in-one desktop with a flat-panel LCD screen (AIO LCD PC) has been around for years, computer buyers haven't exactly embraced the concept. In fact, all-in-ones have account for just 2% of the total desktop display market in any given year, according to DisplaySearch.
So why the sudden AIO bullishness? Because the new nettop PC melds the advantages of the hot netbook category-low price, slim design, and a relatively small footprint-with the ergonomically friendly (i.e., desktop) benefits of a larger LCD display and a full-size keyboard. Some nettops may include touch screens too.
As a result, the nettop is convenient for the cramped office cubicle, tiny home office, or student desk. Says DisplaySearch: "Based on the Intel® Atom processor microarchitecture, which helped to launch the mini-note category, nettops are expected to be a far cry from the existing AIO LCD PCs, which are typically feature-rich and high priced."
Affordability is key here. A nettop with a 18-5-inch LCD costs as little as $240 to $250 to build, and could sell for as little as $300 in some global markets, although a street price of $400 to $500 is probably more realistic, DisplaySearch estimates. Those low prices could boost all-in-one PC shipments (including nettops) to more than 6 million units worldwide this year, up from 3.5 million in 2008.
The nettop and netbook probably won't attract the same shopper. The netbook buyer is intrigued by the concept of anytime-anywhere computing, and is willing to sacrifice screen and keyboard size for convenience. The nettop buyer wants an inexpensive desktop experience without the bulk of a traditional tower PC. Performance may prove disappointing, however, particularly if nettop fans decide to try more than basic web browsing and word processing.
Even if conventional desktops survive, the trend toward cheaper, smaller computers is bound to continue.