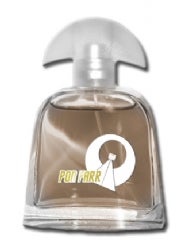 Britney Spears and Gwen Stefani may think they've figured out what women want with their fancy schmancy, flower-filled perfumes. And sure, maybe that stuff smells good to the average gal. But can it compete with the geek-appeal of Captain Kirk's new female fragrance?
Yes, you read correctly, my Klingon-crazy comrades: A novelty fragrance company has come out with a Star Trek-themed spray for the ladies. So strap yourself in and get your sniffer ready: We're about to explore strange new smells, to seek out new aromas and new olfactory experiences, and — you guessed it — to boldly go where no nose has gone before.
Pon Farr: The Star Trek Perfume
The perfume, called Pon Farr, is from the same nerd herd that brought us the Tiberius and Red Shirt men's colognes earlier this year. Now, the crew of the USS SCENTerprise think it's nailed down how the fairer sex wants to smell (or, at least, how their Spock-obsessed boyfriends want them to).
Pon farr, for anyone not up on Star Trek trivia, is apparently a Vulcan mating ritual first mentioned in the 1967 TV episode "Amok Time." It's a "heat" of sorts that Vulcan men experience once every seven years. In plainer terms, they start going bonkers and don't stop until they score with a special ladyfriend. If they're unable to get lucky, they get really unlucky: Failing to mate with a female ultimately results in death. (It's a good thing Star Trek fans don't suffer from the same syndrome, incidentally, or we'd have an awful lot of dead Trekkies on our hands.)
Scent of a Woman
The scent, as you might imagine, promises to deliver wild times for women and their Star Trek-lovin' lovers. It's described as a "refreshing fragrance that is both invigorating and dramatic." (The drama, I assume, comes when you give the stuff to your date and she proceeds to trash your house and leave in a huff.)
As for the smell itself, Pon Farr is said to feature "light, clean top notes of citrus, black currant, lotus blossom and water lily." You also get hints of sandalwood, peach, and mulberry. (I know, I know — they forgot flopsweat.)
"Pon Farr is perfect for those bright sunny days and warm summer nights spent together at the beach, around the fire or simply watching your favorite affaire d'honneur," the perfume's makers say. "Or for guys spending lonely nights at home, trying to imagine that a woman is in the room," they forgot to add.
Ah, but I jest. I'm sure plenty of ladies would delight in a Star Trek-scented gift of Pon Farr. At the very least, if they pretend to, you'll know that they really, really love you.
Pon Farr will become available later this month, but you can preorder it now for about $30 a bottle. You'll find the stuff at Action Figure Express, Big Bad Toy Store, and other fine fragrance retailers nationwide.
Connect with JR Raphael on Twitter (@jr_raphael) or via his Web site, jrstart.com.