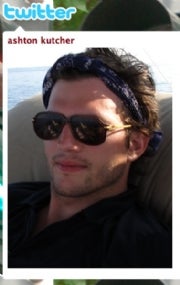 Electronic Arts will make you a star in its upcoming video game The Sims 3 and give you a free copy of every single game EA makes in 2009 if you're Ashton Kutcher 's one millionth follower on Twitter. But there's a catch: Kutcher has to beat CNN to the one million-follower mark. The video game maker threw out the side bet on its Twitter feed last night as the race to be the first Twitter user to win one million followers heats up. CNN and Kutcher are both expected to reach one million followers sometime today.
Punk Turner, Tweet Against Malaria
Kutcher kicked off the race to a million on Monday during a YouTube video post when he realized how close he and CNN were to hitting the one million-follower milestone on Twitter. Kutcher said in the video post he will 'ding dong ditch' (that's "ring and run" to the plus-30 crowd) Ted Turner and post the video of the prank online if he beats out CNN — Turner founded CNN in 1980, but no longer runs the network. Kutcher later added via Twitter that if he wins, he will also donate money to buy 10,000 anti-mosquito, bed nets for African familes to help fight the spread of malaria on that continent.
Ted Turner's daughter Laura Turner Seyel told Atlanta radio station Q100 that her father "would get a kick" out of Kutcher's challenge since the media mogul has also worked to prevent malaria in Africa. So far, there's been no official word from Ted Turner himself.
Larry King Throws Down
Not to be outdone, CNN has taken note of the Kutcher challenge and put forward CNN favorite and 18th-century-style trash talker Larry King to take on the Punk'd star. King warned Kutcher that if the actor did something "crude" to Turner there's a "strong possibility" the CNN founder would "send some Bison" to Kutcher's house. King also said CNN was sure to beat its one million mark rival, but Kutcher shouldn't take it personally because CNN was an "entire gorge network." That kind of tough talk may not sound like much today, but trust me those were fightin' words back in the 1890s.
King also says he will take on any challenge Kutcher can throw at him. King said, "I'm proud to say that I'll participate in anything you want. You come on my show, I'll go on your…Twitter or whatever it is you do." The funny thing is, CNN's Twitter stream wasn't even built up by CNN at all, but by James Cox of San Francisco, who ran the feed for more than two years. CNN recently acquired the account from Cox, according to the Silicon Valley Insider.
Analysts in the Crowd
Fans have gotten into the Kutcher vs. CNN action as well. Marin Purgar of Cakovec, Croatia posted a public spreadsheet on Google Docs forecasting that Kutcher would beat CNN within the next 24 hours. Bob Nedved of Columbus, Ohio created a Website called Tweetrace showing the top contenders for the one million followers mark. According to Tweetrace, the top 5 are currently @cnnbrk (CNN), @aplusk (Kutcher), @britneyspears, @theellenshow and @johncmayer .
One Million Twitter Followers, Who Cares?
While the race to a million followers is taking on a life of its own, you may be wondering what all the fuss is about. Kutcher believes today's expected milestone is significant and says something about the current age of digital media.
"[It will make] a huge statement about social media," Kutcher said yesterday in a YouTube post. "For one person to actually have the ability to broadcast to as many people as a major media network. I think sort of signifies the turning of the tide from traditional news outlets to social media outlets." Good point, Ashton, but while you're working toward one million followers today, watch your back for rogue Bison.
As of 6 AM ET, CNN was in first place with 958,102 followers; Ashton Kutcher was in second with 939,724; and Britney Spears was closing in fast with 925,877.
Connect with Ian Paul on Twitter (@ianpaul).