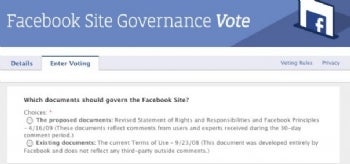 Facebook promised to put the future of its privacy policies in your hands — and now, it's staying true to its word. The social networking site has officially opened the polls for a user vote on its terms of service. Have you cast your ballot?
Facebook Privacy Flap
The vote follows an intense debate surrounding Facebook's terms of service. The service changed its policies without warning in February, essentially giving the site eternal ownership of your personal content. Once word broke of the change, users formed a protest group and a privacy advocate prepared to file a federal complaint. It didn't take long for Facebook to do an about-face, reverting to its old terms and agreeing to begin a more open, user-involved process.
"The past week reminded us that users feel a real sense of ownership over Facebook itself, not just the information they share," Facebook CEO Mark Zuckerberg said at the time.
Facebook's Privacy Vote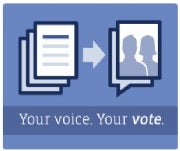 So it all comes down to this: the big vote. Facebook spent weeks listening to user comments and suggestions about its privacy terms, and the service has now published revised versions of its documents. You can vote for one of two options: an updated "Facebook Principles and Statement of Rights and Responsibilities (SRR)," which is said to have been shaped by the feedback from the Facebook community; or the current "Terms of Use," which was created solely by Facebook prior to the open comment period.
Voting will remain open until next Thursday, April 23, at 11:59 a.m. PDT. All you have to do is visit the ballot page to make your voice count.
Turnout Concern
Here's where things get interesting: In order for the vote to be considered "binding," at least 30 percent of "active Facebook users" — those who have logged into the site within the past 30 days — have to participate. After the massive outcry, those who helped head up the protests hope users remain as passionate as they were two months ago.
"My concern is, how realistic it is to expect 30 percent of people who have logged into Facebook at least once in the previous 30 days to participate?" asks Julius Harper Jr., the man who formed the "People Against the New Terms of Service" group. "That's easily tens of millions of people," he says.
Harper's right: Facebook claims more than 200 million active users. That means more than 60 million people will have to vote for this to count.
Privacy at Stake
So what's at stake? Basically, your right to have a say in how Facebook handles your data. If enough users click over to the virtual polls and the new documents are approved, Facebook promises it'll offer the same process for any future policy changes. If the turnout doesn't hit the mark — well, the guarantee gets noticeably less firm.
"If these new documents are approved, all future changes to the Statement of Rights and Responsibilities will go through the same process of notice and comment, and may be put to a vote if enough people comment," Zuckerberg writes in a blog posting. "Even if these new proposed documents are defeated, we will still find ways to involve you in the governance process; however, this involvement will need to be explicitly stated in a future version of the Terms of Use."
Harper plans to spend the coming days campaigning, then, to make sure as many people as possible participate. It's all too easy to become complacent, he worries — and with the time that's passed since the issue was a hot topic, it's not hard to imagine people brushing it aside.
"I know it might seem a bit silly to compare it to the Bill of Rights or anything, but really there isn't much else to compare it with," Harper says. "This sounds a lot like a constitutional convention."
• Vote: Facebook Site Governance Vote
• Learn more: Facebook's Privacy Flap: What Really Went Down
Connect with JR Raphael on Twitter (@jr_raphael) or via his Web site, jrstart.com