Repartitioning software told Bloodboughtme that his hard drive had "bad blocks." He asked the Answer Line forum for advise.
Bad blocks and bad sectors are pieces of the hard drive's surface that a program or the drive itself finds unreliable. Any files written to a bad block could be lost.
Any hard drive scanner, including Windows' own Chkdsk, can find potential bad blocks, attempt to remove data from them, and mark them unusable. To run Chkdsk, select Start • My Computer (Start • Computer in Vista), right-click your C: drive, and select Properties. Click the Tools tab. In the Error-checking box, click Check Now. Make sure both options are checked, then click Start.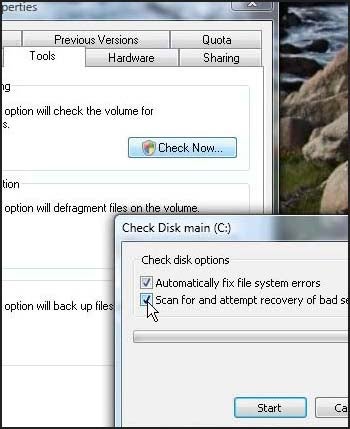 An error message will tell you that it can't do the job now, but will give you the option to scan the drive automatically the next time you boot. Accept that offer, and remember that your next boot will be a long one.
If each such scan finds new bad blocks or sectors, it's time to be concerned–very concerned. Your drive could be dying.
The first thing you need to do is make sure that losing that drive won't lose your data. Make a backup now. If you already have a good backup, make another backup. And then, make a third. If that drive suddenly dies on you, all you'll lose is the hardware.
Should you buy another drive? It's worth considering, but a thorough diagnostic and repair could save you that expense. Visit the manufacturer's web site and look for a diagnostic program. Most offer one for free.
Another option: Purchase Steve Gibson's astonishingly powerful hard drive and diagnostic tool, SpinRite. Metaphorically speaking, SpinRite lifts up all of your hard drive's furniture, cleans the carpet, checks for structural problems in the floor, then puts the furniture back in place, avoiding soft spots in the floor.
But this is no friendly Windows program. SpinRite runs on DOS (it comes with an .iso file for creating a bootable CD). Once running the actual program, SpinRite can be confusing and intimidating for the non-techie. But it does a very good job.
One other problem with it: It costs $90. Depending on the size of your hard drive, buying a new one might make more sense.
Read the original forum discussion at http://forums.pcworld.com/message/204980
Add your comments to this article below. If you have other tech questions, email them to me at answer@pcworld.com, or post them to a community of helpful folks on the PCW Answer Line forum.