With the new interface introduced with Cyberlink's version 6 generation of products, the company won me as a fan. With version 7 things just got better. I discovered the joy of using PowerDirector (various prices; see below) for editing and converting video, as well as for burning movie discs. I guess that tells you all you'd want to know about what I think of the program.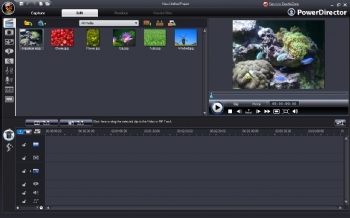 Interfaces don't much get better-looking, nor do they get easier to use. Though arranged into the standard media, preview, and timeline three-pane window, PowerDirector's icons are easier than most to understand. Editing is done by splits rather than setting start and end points–a method which grows on you after a few uses–and you can import virtually any kind of media. The program walks you through most operations, it's fast and I've yet to view a transcoding that wasn't up to snuff. It also imports any video supported by a DirectShow codec though it only outputs using its own codecs (and FX), including MPEG-2 for DVDs, MP4 for iPods and the like, as well as older AVI and MPEG-1.
PowerDirector comes in three basic flavors: the HE version packaged with the DVD Suite, which offers Blu-ray support; the Ultra version ($120), which offers Blu-ray support, more video tracks, and more templates; and the Deluxe version ($70), which forgoes support for AVCHD MP4 and Blu-ray. The trial/demo version of Deluxe works for 30 days and limits iPod format encodings to a total of 50.
There are a number of nice video editors on the market, but few if any surpass Power Director on any level. It's an especially good bargain as part of the DVD Suite.